'It is not just a loss for India or UC Berkeley, it is a loss for the world.'
Friends and teachers at Tarishi Jain's university in California remember the teenager murdered by IS killers in Dhaka.
Ritu Jha/Rediff.com reports from California.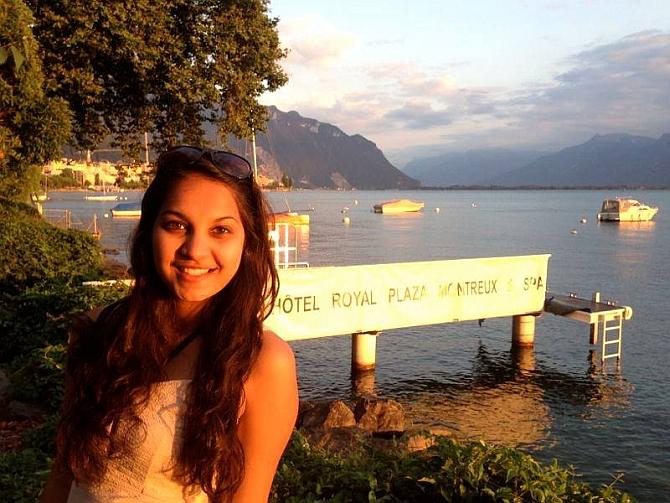 Faculty members and friends at the University of California, Berkeley, are shocked to learn that Tarishi Jain was one among the 20 people murdered by Islamic State terrorists at a restaurant in Dhaka on Friday, July 1.
"All of us at Berkeley are devastated by the loss of our undergraduate student Tarishi Jain," Professor Lawrence Cohen, Director, Institute for South Asia Studies, told Rediff.com
Tarishi, 19, was on a summer internship from the Subir and Malini Chowdhury Centre for Bangladesh Studies at UC, Berkeley.
The internship placed her at the Eastern Bank Limited -- a commercial bank headquartered in Dhaka -- where Tarishi was studying the growth of e-commerce.
An Indian citizen, Tarishi had done her high school at the American International School in Dhaka. Her father Sanjeev Jain has a textile business in Dhaka.
"Tarishi was a dedicated student, passionate according to all I have spoken with about her work as a social entrepreneur," Professor Cohen said. "Her loss is devastating and words fail me."
Subir Chowdhury, who in 2014 donated $1 million to UC, Berkeley to set up the Subir and Malini Chowdhury Foundation, told Rediff.com, "We are devastated. Tarishi was a very talented young lady with passion to make a positive difference to the world."
"It is not just a loss for India or UC Berkeley," Chowdhury said, "it is a loss for the world. Our deep condolences to her family and friends.
Tarishi was planning to major in economics at Berkeley and was very involved in social entrepreneurship, Professor Cohen said.
She was working with a clothing line, EthiCal to produce clothes with the UC Berkeley insignia, the profits of which would support micro-credit projects through Kiva.
EthiCAL Apparel is a student-run social business based in Berkeley, California that designs and sells custom apparel, donating all profits through Kiva, a non-profit that work as microloans to support entrepreneurs worldwide.
"We are a student-run social business," Jacinta Lu, President, EthiCAL Apparel, told Rediff.com, "Our success is driven by the passion and commitment of our members, and we are made unique by our members who make us family. Tarishi was all of these things. She was beautiful, kind, sweet, and dedicated."
"She made EthiCAL better in every possible way and we will miss her very, very much. We are in complete shock over what has happened," Lu said.
"We are devastated at the loss of our girl," Professor Isha Ray, Associate Professor, Energy and Resources Group and Co-Director, Berkeley Water Centre, told Rediff.com
"It is our worst nightmare and we at the Bangladesh Centre and the Institute of South Asian Studies are in shock and grief. We are all so so sad," Professor Ray said.
"There will be a vigil on the Berkeley campus," Professor Cohen said, "to honour and remember her and to mark the violence and pain of her being taken from our community and from her family and friends."
On April 5, Tarishi posted about EthiCal: 'We are so excited to launch our new clothing line! .......Pleeease support us in our mission to help rising entrepreneurs and fight poverty all around the world.'
Friends and classmates posted condolences messages on Facebook.
'Tarishi was one of the most hard working people that I met at Ethical,' Zargham Aamer of EthiCAL wrote. 'Even though we worked in different departments, we worked together on several giveaways. Her positive cheerful personality made working with her an incredibly amazing experience.'
'We both were thinking of majoring in economics and recently talked at length about it at our EthiCal banquet dinner. I was really looking forward to working with her in the coming semester,' Zargham remembered.
'I am truly at a loss of words and completely heartbroken by this tragic loss. I've had the opportunity to meet and work with Tarishi last semester in EthiCAL, and I was always so impressed by her,' another student Vanessa Kim wrote. 'She had the brightest smile and such a positive energy that was contagious to people around her. She was such an integral part of our EthiCAL family, and I wish I could have told her how much we appreciate her hard work and her passion.'
'Tarishi, we all love you so so much and we'll miss you,' Vanessa wrote. 'You'll always be remembered in our hearts. Rest in peace, Tarishi.'