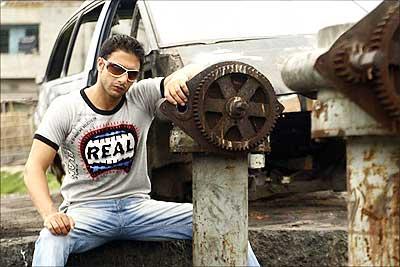 For 28-year-old Tariq Ahmad Dar, life will never be the same again. Just as this Kashmiri was on the threshold of stardom in the world of modeling, Bangladesh's Rapid Action Battalion arrested him in Dhaka on September 15, 2006.
Back in his uncle's house in Srinagar on Thursday, the model, who Bangladesh accused of being an Indian spy, and who India's Research and Analysis Wing accused of being a Kashmiri terrorist, spoke to rediff.com about his experiences.
"I was told initially by my Bangladeshi interrogators that I was wanted as a Kashmiri terrorist by the Indian authorities. Later,they said I was a RAW agent and that I was masquerading as a model in their country," Dar says.
The RAB denied Dar's arrest despite repeated questions from Indian authorities.
"I was kept in a dark, dingy cell. I often felt my end was near as they tortured me. I remained in horrible detention for 40 days before the courts ordered my release," he says.
For Dar, the irony of fate was unmistakable. His posters were all over the streets of Dhaka even as he languished in oblivion in a torture cell in the same country.
The model says he had been a regular visitor to Dhaka as his father had set up a handicraft business since 1995. "We would sell our handicrafts at the annual November Dhaka fair," he says.
"On October 24, three days after my release, when I came to the Dhaka airport to catch a flight for Delhi, I was whisked away by some men in civilian clothes from the Indian embassy. They questioned me for 15 minutes before allowing me to board the plane," he says.
But his trauma was far from over. "As soon as I landed at the Delhi airport, cops from the Delhi Special Cell whisked me away. My younger brother was waiting to receive me, but he was not allowed to see me. The torture in Delhi was worse than in Dhaka," Dar says.
He also disclosed that he was kept in a cell meant for high-risk detainees. "The cell was like a cage. Like the ones you see in a zoo. After 12 days of torture, I was shifted to Tihar Jail," he says.
Finally the judiciary came to Dar's rescue. Following an order by a Delhi court, he was released last Wednesday.
Scores of well-wishers and sympathisers are thronging the Narwara residence of Dar's uncle.
It is an unending celebration, but Dar wants one question to be answered. "People no longer come to see a promising model. They come to sympathise with a tortured, tormented person who cannot even properly walk. The pain in my left leg is excruciating. Will somebody now tell me what my crime was? Was it being a Kashmiri?" he asks.
Text: Mukhtar Ahmad in Srinagar