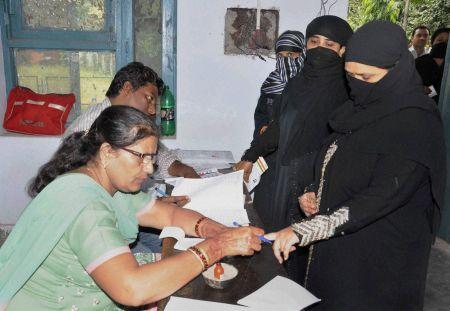 The Tamil Nadu state assembly elections will be held on May 16, 2016. In the upcoming Tamil Nadu election, the All India Anna Dravida Munnetra Kazhagam, the Dravida Munnetra Kazhagam and the Desiya Murpokku Dravida Kazhagam are the major parties and are being considered as the major players.

AIADMK is in an alliance with the Republican Party of India and Anaithindia Dravidar Samudaya Munnetra Kazhagam.
DMK is in an alliance with the Indian National Congress, Puthiya Tamilagam and Manithaneya Makkal Katchi, while the DMDK is in a coalition with the Marumalarchi Dravida Munnetra Kazhagam, Communist Party of India, Communist Party of India-Marxist-Leninist-Liberation and Viduthalai Chiruthaigal Katchi.
Rediff Labs analysed the past performance of the parties to develop this Sentiment Meter for the 2016 Tamil Nadu election. A mathematical model is used to calculate how seats distribution is altered as sentiment/percentage of votes towards the contesting political parties changes.
Based on the change, each constituency is marked with the winning party. Where, swing represents the victory margin is close to the runner up party.
Move the pointer on the Sentiment Meter (depending on who you think will get more votes) towards the political parties to see how the outcome is likely to change depending on public sentiment.

For more data driven journalism, check out Rediff Labs.