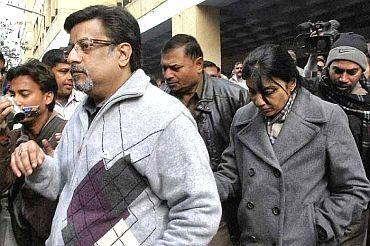 Teenager Aarushi Talwar's sensational murder five years back was carried out by her own dentist parents Rajesh and Nupur Talwar and no outsider was present at the time of the crime, Central Bureau of Investigation told a court in Ghaziabad on Tuesday.
In his deposition before Additional Judge S Lal, CBI investigating officer A G L Kaul, who headed the CBI probe in the case, told the court their investigations revealed that there was no evidence of any third person's entry in the house, agency lawyer R K Saini told reporters.
Appearing as a prosecution witness in court in Ghaziabad where the Aarushi murder trial is going on, the officer said CBI probe shows that only Rajesh and Nupur were present in the house when Aarushi and their domestic servant Hemraj were killed on the intervening night of May 15-16, 2008.
Kaul said several indicators such as dragging of Hemraj's body to the roof, covering it with cooler panel, locking of Aarushi's bedroom door from outside and dressing up of the crime scene showed that only Rajesh and Nupur have killed Aarushi and Hemraj but there was no sufficient evidence against them.
The officer had filed a closure report in December 2010 where he had mentioned chain of circumstantial evidence which allegedly pointed towards the Talwars but said there was no admissible evidence against them.
The magistrate had rejected the CBI closure report and directed the Talwars to face trial.
14-year old Aarushi was found dead with her throat slit in her bedroom on May 16, 2008. The initial suspicion went on Hemraj whose body was later found in their terrace at Jalvayu Vihar in Noida on the outskirts of Delhi.
The allegations have been refuted by Talwars who have claimed innocence in the matter.
Image: Aarushi's parents Rajesh and Nupur Talwar