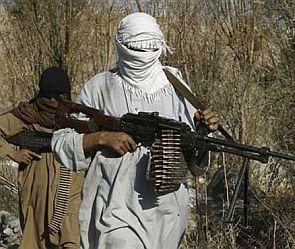 Amid efforts by the concerned governments to hold peace talks with them, the Pakistani and Afghan Taliban have said they would continue their "struggle" till "the Western inspired systems" of governance in both countries are overthrown.
Both statements, sent as a message on Eid-ul-Azha, emphasised on the "spirit of sacrifice" that they said was needed to combat the growing western influence in the Islamic world.
Hakimullah Mehsud, head of the Tehrik-e-Taliban Pakistan, said that his organisation was just part of the now worldwide Islamic movement against the West that had been inspired by Mullah Umar's resistance to the US demands for handing over Osama bin Ladin after 9/11, The News reported.
He said the goal of the movement was establishment of an Islamic caliphate from the Caucus region of Central Asia to the deserts of Africa.
"As far as Pakistan was concerned, the TTP Ameer (chief) said that it was the country's establishment that had made approaches for talks and the onus for this rested on the political leadership," he said. He said the talks option had been opened by the establishment only after all others tactics had failed against the militants and its leadership felt that it was likely to lose this struggle.
Mehsud said the militants were willing to sit down on the table but would only put forward their demands once such a meeting takes place. He also said the militants would never give up their demand for a Sharia based system in Pakistan.

Pakistan's government has already said that it would only hold talks after the militants accepted the constitution of the country while the military leadership has said it was ready to use force if so ordered.
This, according to the TTP Ameer, means the Pakistan's leadership knows that the Taliban's victory is near. He also denied that the militants were involved in attacks on any civilian targets, claiming that such attacks were "carried out by the establishment to malign the militants."
Meanwhile, the overall head of Islamic militants in the region and the head of the Taliban in Afghanistan Mullah Umar also released a statement on the occasion of Eid-ul-Azha.
In the statement, he called for "the Afghan people to boycott" the upcoming Presidential elections.
The statement also urged the people "to be careful of certain media outlets that are focusing to impose the non-veil and all mingling culture of the West on the Afghan people under the name of rights for women and youth and would like to alienate them from their Islamic principles and national culture."
Mullah Umar added "the invaders should know that jihad would continue against them with greater momentum."

The statement appears to show a hardening of stance from the Afghan Taliban following the recent release of prisoners in Pakistan and the failure of talks with the US in Qatar, the daily said.