A Taliban attack on a Kabul hotel housing foreign contractors on Monday ended with the death of all three Taliban fighters seven hours after the assault began, police said.
On Monday morning, a Taliban truck bomb blasted through Northgate, a hotel for foreigners, just days after the deadliest attack in the Afghan capital for 15 years.
IMAGE: Police officials said that none of the hotel staff was injured during the gun battle. Photograph: Omar Sobhani/Reuters
The powerful bombing, which rattled windows several kilometres away, paved the way for armed insurgents to enter the heavily guarded facility, close to Kabul' international airport.
The attack on Northgate, a compound for foreign contractors which was previously attacked in July 2013, underscores the worsening security situation as the Taliban ramp up their annual summer offensive.
Afghan commandos cordoned off all arterial roads leading to Northgate, with erratic grenade explosions and gunfire coming from the scene after daybreak.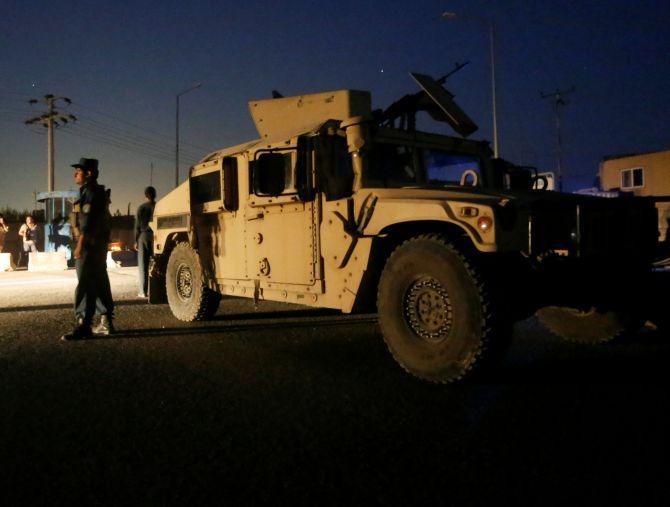 IMAGE: Afghan policemen keep watch near the site of a blast in Kabul, Afghanistan. Photograph: Omar Sobhani/Reuters
"The operation is over now. One policeman lost his life and three others were wounded but none of the hotel staff or guests were hurt," Kabul police chief Abdul Rahman Rahimi was quoted as saying.
The attack comes after twin bombings left 80 people dead in the Afghan capital on July 23, in the deadliest attack in the city since the Taliban were ousted from power in 2001.
The bombings tore through crowds of minority Shiite Hazara protesters as they gathered to demand that a major power line be routed through the central province of Bamiyan, one of the most deprived areas of Afghanistan.
That assault was claimed by the Islamic State group, which is making gradual inroads into Afghanistan, challenging the Taliban on their own turf.