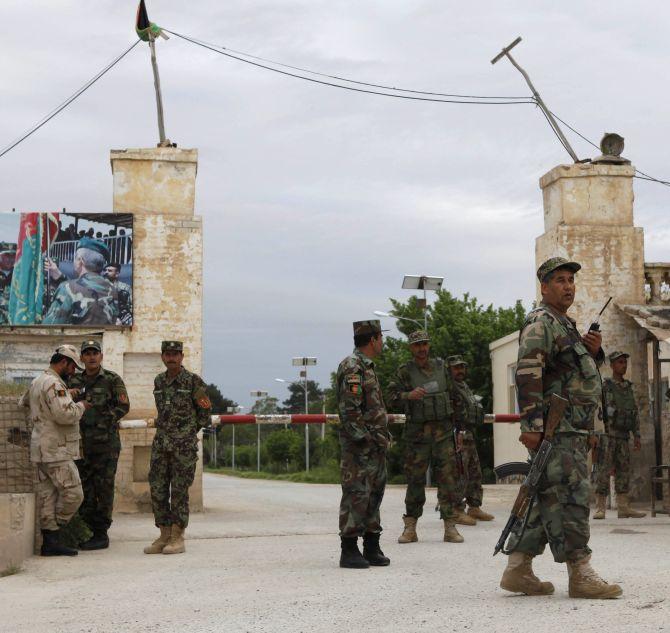 More than 140 Afghan soldiers have been killed after some Taliban suicide attackers disguised as army personnel targeted a national army base in northern Afghanistan, local media reports said.
The Express Tribune quoting other media said many others have been wounded and that the toll is likely to be higher.
The final death toll, however, is yet to be confirmed.
As many as 10 Taliban fighters, dressed in Afghan army uniforms and driving military vehicles, talked their way onto the base and opened fire on soldiers eating dinner and leaving a mosque after Friday prayers.
The group of suicide attackers manning at least two Afghan national army vehicles managed to pass the first security gate, according to Zulmay Wesa, commander of 209th corps in Balkh province.
When they were stopped at the second gate, one of the attackers blew himself up, and the rest entered the base, Wesa said. They went straight to the mosque where ANA soldiers were praying, and opened fire.
"After prayer, we went outside and saw an army vehicle with three to five people in. They came out and opened fire with Kalashnikovs," said a bodyguard at the base, asking not to be named.
Elsewhere on the base, at least one attacker went on a shooting rampage in a dining facility, according to an American security official.
The United States military in Afghanistan, in a statement, condemned the attack.
'The attack on the 209th Corps today shows the barbaric nature of the Taliban. They killed soldiers at prayer in a mosque and others in a dining facility,' US commander John Nicholson said in the statement.
The attackers used rocket-propelled grenades and rifles.
Taliban spokesperson Zabihullah Mujahid said in a statement on Saturday said that the attack was retribution for the recent killing of several senior Taliban leaders in northern Afghanistan.
India also strongly condemned the terror attack, saying it is a stark reminder of the need to immediately dismantle safe havens sustaining terrorism from outside that country's borders.
The External Affairs Ministry, in a statement, said India remained steadfast in its support to Afghanistan in fighting all forms of terrorism.
'The terrorist attack is a stark reminder of the need to immediately dismantle the safe havens and sanctuaries that support and sustain terrorism in Afghanistan from outside its borders,' the MEA said, in an apparent reference to the terror infrastructure in Pakistan.
It said the government and the people of India extend their deepest condolences and stand with the government and people of Afghanistan at this difficult moment.
'India remains steadfast in its support to Afghanistan in fighting all forms of terrorism and bringing perpetrators of terrorist violence to justice, wherever they maybe,' the statement said.
With inputs from PTI.
IMAGE: Afghan national Army troops near the site of attack on army headquarters in Mazar-i-Sharif . Photograph: Anil Usyan/ Reuters