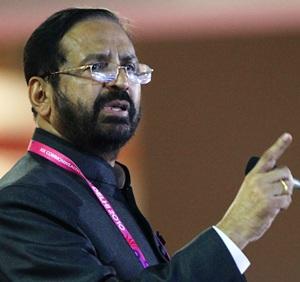 Laying down a host of criterion for the selection of candidates for the coming Lok Sabha elections, Congress vice-president Rahul Gandhi has made it known that no tainted leader will be given a ticket by the party, but such leaders seem to have found a way around it, says Anita Katyal
But leaders who are under a cloud have found a way of circumventing these norms. It is being suggested that their wives may instead be given tickets.
The Congress leadership will have to take a call on this issue in the coming days when it starts finalising its list of Lok Sabha candidates.
Suspended Congress Member of parliament from Pune Suresh Kalmadi, disgraced former Maharashtra chief minister Ashok Chavan and former Jharkhand chief minister Madhu Koda, involved in a Rs.4,000 crore mining scam, are pushing for the candidature of their respective wives.
While Kalmadi and Chavan are Congress members, Koda is an outsider whose government was propped up by the grand old party. He wants his wife Geeta Koda, an independent member of Legislative Assembly from Jagannathpur assembly constituency, wants to be inducted into the Congress and fielded as its candidate from the Chaibasa Lok Sabha constituency.
Both Kalmadi and Chavan would ideally like to be renominated for the general election. But in case they fail to pass muster, they are insisting that their wives -- Meera Kalmadi and Ameeta Chavan -- be fielded since they have not been involved in any corruption cases.
Suresh Kalmadi, who faced a number of corruption charges as chairman of the organising committee for the Commonwealth Games, was arrested in 2011 and was subsequently suspended by the Congress.
Kalmadi maintained a low-profile even after he was released from jail. But as the Lok Sabha elections started nearing, he became proactive in his constituency where he still wields considerable influence.
His supporters had recently urged the Congress leadership to revoke his suspension to enable him to contest in the coming general election.
Maharashtra Chief Minister Prithviraj Chavan is not particularly keen on Kalmadi's candidature. He is learnt to have told the Congress leadership that this would send a wrong message at a time when Rahul is being pitched as an anti-corruption crusader and is pushing for the promulgation of ordinance for the anti-graft bill which would not be passed by Parliament.
Chavan, it is learnt, has suggested that the Pune ticket be given to a former Youth Congress leader which, he believes, will be in keeping with the Congress vice-president's emphasis on fielding young and new faces.
On its part, the Congress has kept its distance from Kalmadi. But the party may be forced to give in and nominate his wife in view of Kalmadi's clout in Pune. If denied, Kalmadi could sabotage the official candidate's campaign.
Like Kalmadi, former Maharashtra chief minister Ashok Chavan, who was shown the door following his involvement in the Adarsh housing scam, is also pressurising the party leadership that he should be rehabilitated.
He is pitching for a Lok Sabha seat for himself, failing which he has proposed that his wife be fielded from his constituency Nanded. In fact, there is a virtual revolt in Maharashtra unit of Congress following reports that Chavan may be named chairman of the party's election campaign committee.
Both moves have been opposed by Chavan and his camp followers, who have argued that it will become difficult to defend the move as the opposition is bound to highlight the high-profile corruption case in its poll campaign.
On the other side, Ashok Chavan's supporters have pointed out that the former CM was not treated fairly as he was removed even before any charges could be proved against him. Both the Chavans are locked in competition for the leadership of the Maratha community.
Ashok Chavan has been working silently for the past several months to get back into the good books of the Congress leadership. His detractors insist that the enquiry commission set up by the state government had specifically said there was a quid pro quo involved in the permissions given by him to the Adarsh Housing Society.
However, when Maharshtra governor refused permission to the Central Bureau of Investigation to prosecute Chavan, it was seen as a clear sign that the party leadership had softened towards the former chief minister.
Senior Congress leaders told rediff.com that while Ashok Chavan's wife may be considered for a Lok Sabha seat, the party will find it difficult to take the same view in the case of Kalmadi's wife. Distinguishing between the two, they said, while Kalmadi's guilt was substantially proved, the case against Ashok Chavan was not so strong. "It was only a case of doling out favours," remarked a Congress functionary.Outside the party fold, Geeta Koda has applied for membership of the Congress, so that she can be named the party's candidate for the Chaibasa Lok Sabha constituency. The seat is currently held by her husband who contested as an independent candidate.
The CBI had lodged a first information report against Koda in 2011 in connection with allegations of irregularities in the award of contracts under the Rajiv Gandhi Gramin Vidyutikaran Yojana.
Koda, whose government was supported by the Congress, had awarded contracts worth Rs 400 crore when he was chief minister from 2006 to 2008. However, the case was closed as the CBI did not find sufficient evidence to substantiate the charges against him.
Although Rural Development Minister Jairam Ramesh had recently rubbished reports about Geeta being given a Lok Sabha ticket by the Congress, her name has been recommended by the party's Jharkhand unit which has argued that she should be considered as there are no corruption charges against her.
With winnability emerging as a major factor in the selection of candidates, it has also been stated that Geeta Koda could help the Congress to win two more seats in the neighborhood where the Kodas have considerable influence.