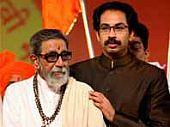 With the death of Shiv Sena chief Bal Thackeray, his son and party executive president Uddhav faces the immediate task of keeping the party together and consolidating its position ahead of the 2014 Assembly elections in Maharashtra.

Whether Thackeray's death would bring together Uddhav and his estranged cousin, Maharashtra Navnirman Sena (MNS) chief Raj Thackeray, to avoid a division in Marathi votes, remains to be seen.
After the split in the party in 2006, Raj, who continued to hold high regard for his estranged uncle, was successful in capturing the imagination of the Marathi Manoos and secured a large chunk of votes.

It was evident the Sena's loss was MNS' gain, especially in Dadar, a traditional Shiv Sena stronghold since the party's inception in 1966. This February, in the elections to the BrihanMumbai Municipal Corporation (BMC), MNS routed the Sena in Dadar and adjoining areas, winning all six seats.
Though Bal Thackeray was inactive for few years due to ill health, he controlled the party with an iron fist and had the last word in party affairs. Now, the question is, can the mild-mannered Uddhav keep the flock together with the same vigour?

Uddhav's leadership abilities would be put to test. Though the party has been ruling BMC since the last 17 years, it faced three successive defeats in the Assembly elections in 1999, 2004 and 2009, after ruling the state for four and half years along with the Bharatiya Janata Party (BJP). Though Uddhav stands to gain from sympathy votes, this is not enough to come to power in Maharashtra. For this, he would have to inspire party members, revive shakhas and provide a definite road map to Shiv Sainiks.
Currently, the Sainiks are a confused lot. Differences between party-appointed functionaries and aspirants have led to rampant factionalism within the Sena's ranks.

The party was unable to decide on whether to continue its alliance of more than two decades with BJP or fight the coming elections on its own. This had virtually split the party.

Now, Uddhav, along with senior party leaders, would have to decide on the issue and send out a clear message that the party is strong enough to take on the ruling Congress-NCP alliance in the state.
However, Uddhav cannot simply brush aside Raj Thackeray's growing stature in the politics of the state.

Though party workers and BJP want the two cousins to come together, they would first have to resolve the contentious issue of leadership. Also, questions remain on whether Raj would merge MNS into Shiv Sena or formally arrive at an electoral alliance.