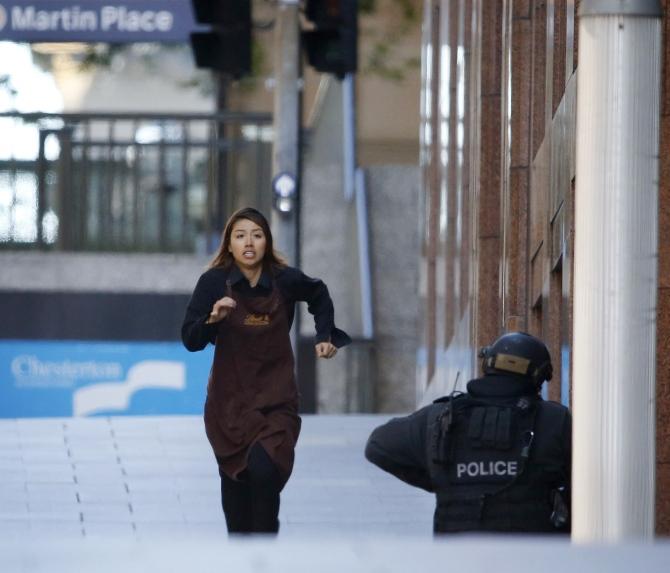 An armed gunman on Monday took several people hostage at the Lindt Chocolat Cafe in Sydney and forced two people to hold what appeared to be a black flag bearing Islamic slogans written in Arabic in the store's window.
"There is no god but Allah. And Muhammad is his messenger," the slogan read.
Elly Chen was one those two people.
Later, when footage of her grief-stricken, frightened face scampering down a Sydney street, escaping with her life was splashed across the internet, her family was sighed with relief as they watched her escape live.
Photographs of Elly Chen fleeing the cafe on Monday afternoon have gone around the world as the siege at her workplace attracted global attention.
Her Facebook page has become a virtual place for her friends to express their worries and fears during her seven hours of captivity. Then they saw the images of her running into the arms of a police officer, pictures that now feature on hundreds of news websites.
Chen became the fourth hostage to escape the nightmare that has made headlines across the world.
According her Facebook page, she has studied at the University of NSW since 2011. She is also a former ace student of the PresbyterianLadiesCollege.
The incident has triggered a security alert in Australia as authorities have sealed off surrounding streets, evacuated people from buildings, and suspended rail services following the incident.
An undisclosed number of hostages are still held up inside.
Image: Elle Chen runs towards a police officer outside Lindt cafe, where other hostages are being held, in Martin Place in central Sydney. Photographer: Jason Reed/Reuters