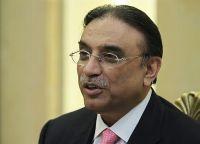 Swiss authorities cannot open graft cases against Pakistan President Asif Ali Zardari under an order from the supreme court, Law Minister Farooq Naek has said.
The Swiss authorities had conveyed their position in an official letter sent to the Pakistan government this week, Naek was quoted as saying by TV news channels.
Information Minister Qamar Zaman Kaira, a close aide of Zardari, said the decision of the Swiss authorities had endorsed the stance adopted by the Pakistan government.
Giving in to pressure from the supreme court, the Pakistan government had sent a letter seeking the reopening of the graft cases to the Swiss authorities last November.
However, the letter had made it clear that the cases could be revived with the condition that the president enjoyed immunity under the Constitution and Pakistani and international laws.
The standoff between the government and the apex court over approaching the Swiss authorities over the graft cases had cost former premier Yousuf Raza Gilani his job last year.
The court disqualified Gilani after convicting him for contempt for refusing to revive the cases.
Gilani's successor Raja Pervez Ashraf agreed to implement the apex court's orders in November after he was charged with contempt.
The supreme court has been pressuring the Pakistan People's Party-led government to revive the graft cases against Zardari since December 2009, when it struck down a graft amnesty issued by former military ruler Pervez Musharraf.
The National Reconciliation Ordinance, which was part of a secret deal between Musharraf and slain former premier Benazir Bhutto, benefited Zardari and over 8,000 others.
Soon after the NRO was promulgated, former Attorney General Malik Qayyum had asked Swiss authorities to close the graft cases against Zardari.