Prime Minister Narendra Modi came under scathing attack from the Grand Secular Alliance on Sunday in poll-bound Bihar with Chief Minister Nitish Kumar, Rashtriya Janata Dal chief Lalu Prasad and Congress President Sonia Gandhi accusing him of "insulting" the state and failing to deliver on any of his promises.
In hard-hitting speeches, the leaders raised the issue of Bihari pride and said the people would give a befitting reply to Modi as he had "denigrated the legacy of the state" with his DNA remark.
Sonia alleged Modi government has done nothing other than "show-baazi" despite completing one-fourth of its time. Kumar said Modi had remembered Bihar only now after 14 months as elections are due in the state.
The three leaders, who shared the dais at (Swabhiman) (Honour) rally in Patna in a show of unity, also praised each other, forgetting their past rancour.
In his speech, Kumar defended his decision of joining hands with Lalu Prasad.
"No jungle raj is coming, it's only that poor and the deprived have awakened to their rights which BJP is calling jungle raj," he said.
"Lalu ji till date has not told me either to free any arrested person or recommend about any unlawful work... I am saying this with full responsibility," the Bihar CM said.
Kumar also criticised the Prime Minister on promises related to Bringing back black money, jobs to youths and Rs 1.25 lakh crore special package for Bihar, which he said, was "repackaging of old schemes."
"Government data reveals that in 14-month rule, the Modi government has managed to generate only 2.83 lakh new jobs against poll promise to create 1 crore job annually," Kumar said.
The Bihar CM referred to the PM's DNA remark on him and said "my DNA is DNA of Bihar which if full of historical and cultural richness."
The JD(U), he said, would start sending the DNA samples to the Prime Minister from tomorrow for testing.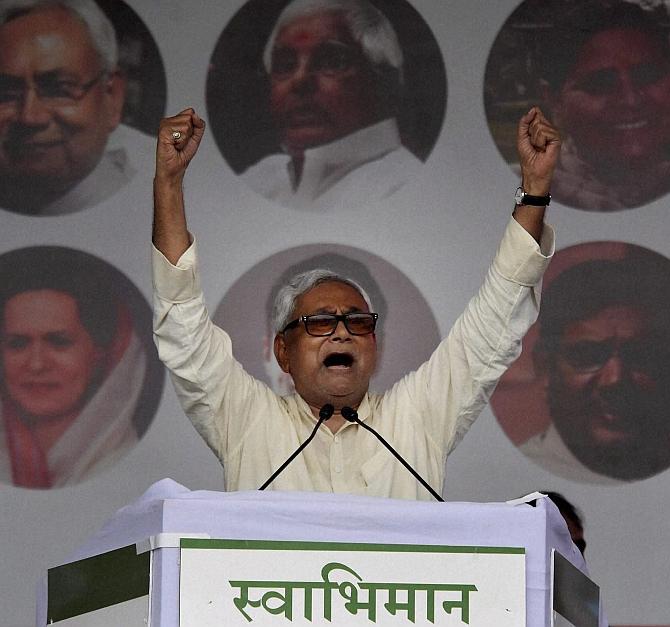 "Today when 'Swambhiman rally' is being organised in Patna, the PM was forced to bend and retreat his steps on land acquisition Bill," he said.
Speaking at a rally earlier, Modi had said, "There seems to be some problem with his (Kumar's) DNA because the DNA of democracy is not like that. In democracy you respect even your political rivals." A 'Sabdhwapsi' campaign was launched by Kumar in a bid to capitalise on the DNA barb against him.
Countering Modi's comment that the JD(U)-RJD alliance would bring 'Jungle Raaj-2', Prasad termed the JD(U)-RJD-Cong-SP coalition as 'Mangal Raaj Part-2'.
The RJD chief said the BJP wants to "create tension between Hindu-Muslim. I know their design. Modi called us "Jungle-Raaj Part-2 but this is Mangal Raaj Part-2," he said.
Kumar said, "No jungle raj is coming, its only that poor and the deprived have awakened to their rights which BJP is calling jungle raj."
Describing Narendra Modi government as 'anti-farmer and anti-youth' at the 'Swabhiman Rally' here, Sonia said that in 14 months tenure of its term which is one-fourth of the total duration of five years, the Union government has virtually acted "opposite to what it had promised during election."
"You had promised to provide one crore jobs to youth every year...forget about new jobs you have put a stop on the existing ones," she said.
About farmers, she said Narendra Modi had promised to enhance Minimum Support Price (MSP) by one-and-a-half times "but acted just opposite to it and is trying to snatch land from farmers to distribute them among a few rich friends."
The leaders asked the people of Bihar not to fall in his "trap" again and made a appeal to the people to ensure the defeat of BJP-led NDA in the state assembly elections.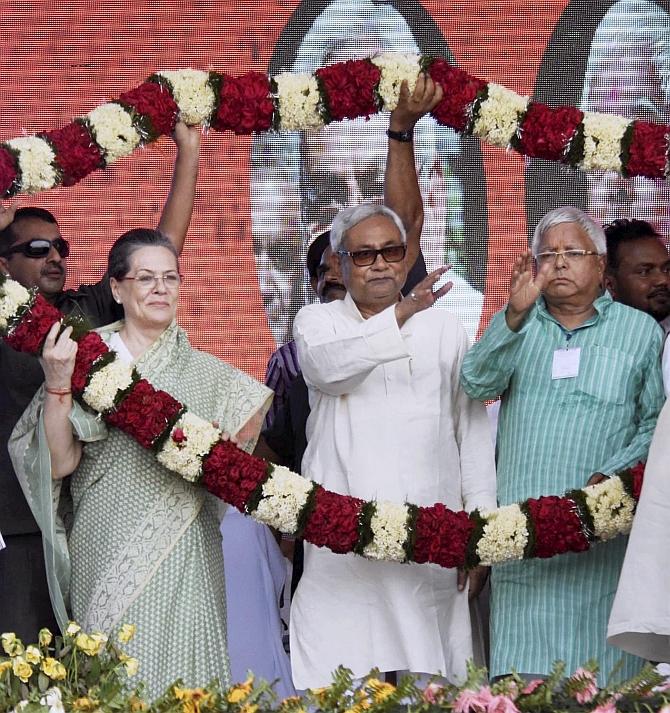 Speaking of 'Mandal Raj-II', the RJD chief said, "I and Nitish Kumar are two sons of backward castes. After Lalu it is Nitish Kumar."
Prasad told Kumar that he need not worry about elections as all the four parties together would ensure victory of the secular forces in the Bihar electoral battle.
Prasad also criticised the NDA government on the rising price of onion.
He also spoke of a "BJP threat of getting his bail cancelled in a fodder scam case and sending him back to jail" and said he could not be cowed by such things.
Referring to LJP President Ramvilas Paswan, Prasad humourously referred him as "mausam vagyanik" (weather scientist).
He reminded him of his "flaunting" in front of the then Pakistan President Pervez Musharraf that he was the minister who had quit NDA ministry of A B Vajpayee over Gujarat riots.
Prasad also referred to Mulayam Singh Yadav and said they were together against the communal BJP and RSS.
Shivpal Singh Yadav of Samajwadi Party and Congress Leader Ghulam Nabi Azad were among the leaders of the alliance present at the rally.
As per seat-sharing arrangements, JD(U) is contesting from 100 seats, RJD 98, Congress 40 and Samajwadi Party 5 for the 243-member Assembly. NCP of Sharad Pawar walked out of the combination peeved a being offered three seats.
Their 3 seats were given to SP along with 2 from RJD to mollify Mulayam Singh Yadav's Samajwadi Party whose state leaders were agitating after denial of seat in the original announcement on August 12.
Against JD(U), RJD, Congress and SP's Grand Secular Alliance, BJP has joined hands with LJP, Rashtriya Lok Samata Party (RLSP) and Hindustani Awam Morcha (HAM) of former Chief Minister Jitan Ram Manjhi for the state elections.
Images: (Top Image) RJD chief Lalu Prasad, (2nd) Bihar Chief Minister Nitish Kumar and Congress President Sonia Gandhi at the Swabhiman rally in Patna's Gandhi Maidan on Sunday.
Photographs: PTI Photo