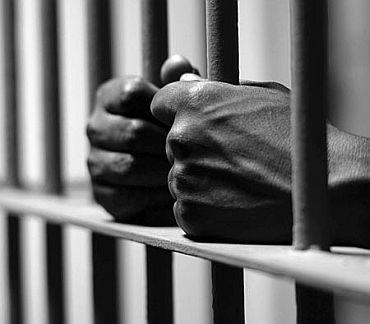 Eleven suspected ISIS operatives, who were arrested from across the country for allegedly recruiting and financing people to join the Middle-East terror group, were on Thursday remanded in seven days NIA custody by a Delhi court.
The accused, who had their faces muffled, were produced before District Judge Amar Nath amidst tight security and, according to lawyers who attended the in-camera proceedings, NIA had sought extension of their custodial interrogation by 10 more days.
NIA said in its remand application that the accused have disclosed during their interrogation "their involvement in this case about recruiting and financing persons willing to join the Caliphate of ISIS at Syria".
"They were also found to be in communication with some active members through chatting applications 'Signal', 'Trillion' and 'Skype' in order to motivate them to join ISIS in furtherance of activities of its ideologies, thereby luring youths to join this proscribed terrorist organisation.
"The identity and role of such associates is being ascertained," NIA said.
Advocate M S Khan, who appeared for nine out of these 11 accused, opposed NIA's plea contending that their remand application does not disclose as to whom they were in touch with in Syria.
Khan also argued that his clients have been in NIA's custody for the past 10 days and there was no need to extend police custody as NIA has already quizzed them in connection with the case.
The 11 accused who were remanded in seven days NIA custody are Mohd Aleem, Mohd Obaidullah Khan, Nafees Khan, Mohd Shareef Moinuddin Khan, Asif Ali, Najmul Huda, Mudabbir Mushtaq Shaikh, Mohd Abdul Ahad, Suhail Ahmed, Syed Mujahid and Mohd Hussain Khan.
Besides these 11 accused, four other co-accused -- Mohd Afzal, Imran, Abu Anas and Nasser Packeer -- were also produced before the court which remanded them in judicial custody.
Except Nasser, who was in judicial custody, all the other 14 accused were produced before the court after expiry of their NIA custody.
NIA, while seeking extension of custodial interrogation of the 11 accused, told the court that "they were involved in the conspiracy and planning with other associates and handlers of ISIS in order to motivate Indian youths" to join the terror outfit in furtherance of their activities.
The agency said that laptops, external hard disks, mobile phones and SIM cards which were recovered from the possession of these accused have been sent for forensic examination and the result is awaited.
"NIA has recovered voluminous incriminating electronic records from the systems of the accused persons. It is essential to cross check the version of the accused. During the interrogation, all accused persons have disclosed many facts about their involvement in this case and about recruiting and financing persons.
"The accused are required to be taken for pointing and identification of scene of crime, meeting points which are far away from Delhi," the agency said, adding that these accused were in touch with some active members of ISIS through chatting applications.