External Affairs Minister Sushma Swaraj was admitted to the All India Institute of Medical Sciences due to kidney failure and underwent tests for a transplant, but the doctors said the procedure may take some time as a donor was yet to be found.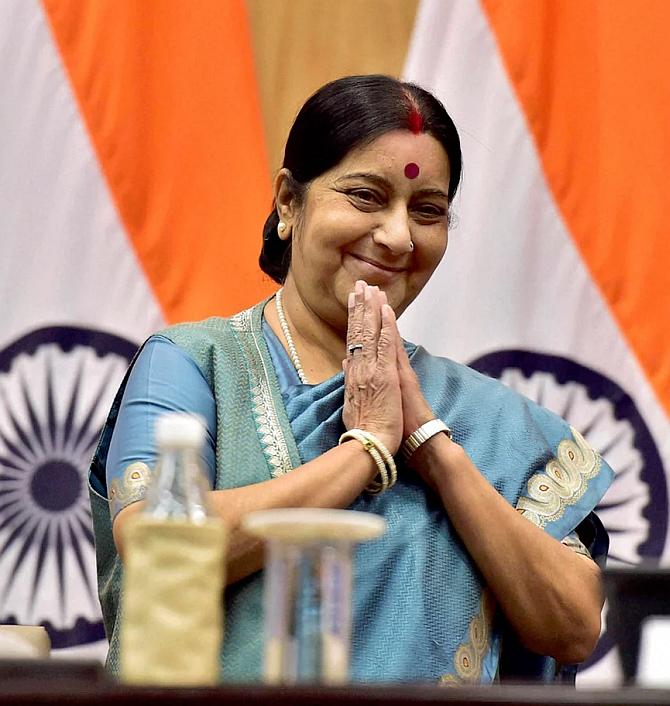 Swaraj took to twitter to inform about her health condition.
'Friends: This is to update you on my health.'
'I am in AIIMS because of kidney failure. Presently, I am on dialysis. I am undergoing tests for a kidney transplant. Lord Krishna will bless,' she tweeted on Wednesday morning.
Doctors at the hospital said since a suitable donor was yet to be found, the transplant would not be conducted immediately.
"Since a donor from her immediate family is not available right now, the kidney transplant might take some more time. The search for a suitable donor is on. Meanwhile, she is on maintenance dialysis (as and when required)," said sources.
Swaraj has been allowed to go home on Wednesday but she will be back at AIIMS on Thursday, the sources said.
64-year-old Swaraj, who has been in and out of the hospital for last few months, was admitted to AIIMS on November 7. A team of doctors comprising Dr Sandip Mahajan, professor (Nephrology), Nikhil Tandon, HOD (Endocrinology), Dr Randeep Guleria, HOD (Pulmonary Medicine) and Balram Airan, Chief of the Cardio Thoracic Centre are treating her.
After Swaraj tweeted about her health, there was a flood of get well soon wishes from politicians as also people from a cross section of society. Some even offered to donate a kidney to her.
'Respected @SushmaSwaraj ma'am. My blood group is B Positive. I will be happy to donate my kidney to you, if needed. God bless,' tweeted Rahul Verma.
Many saw her announcement as setting new standards of transparency as politicians usually are not forthcoming about divulging details of their health condition.
'@SushmaSwaraj sets yet another benchmark. In terms of being honest about health issues. This is truly a new India as it should be,' tweeted marketing expert Suhel Seth.
Politicians cutting across party lines including Congress leader Ambika Soni, National Conference's Omar Abdullah, Delhi Chief Minister Arvind Kejriwal, Union Ministers Mukhtar Abbas Naqvi and Jayant Sinha and Rajasthan Chief Minister Vasundhara Raje wished Swaraj speedy recovery.
'Very sorry to hear about your health problems @SushmaSwaraj ji. My father went through the same so I know how you & the family must feel,' Abdullah tweeted.
Earlier, she was admitted to AIIMS in April for treatment of pneumonia and other health issues.
Wish Sushma a quick recovery. Click on the button below to send a 'Get Well Soon' message.
You can also send a personalised message on Rediff.com's social networking platform, Zarabol, below.