Bharatiya Janata Party leader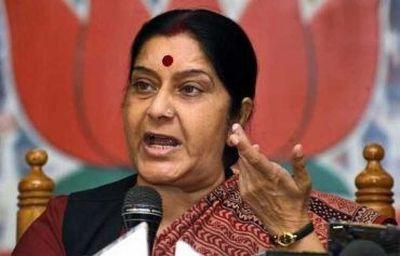 Sushma Swaraj is a fighter who follows her own code. Those who think she's a pushover are making a mistake, says Aditi Phadnis
Roads and Highways Minister Nitin Gadkari was recently describing how the Narendra Modi government has changed the way the bureaucracy used to function. Take roads, he said. Earlier, if we wanted to shift a railway overbridge, the railways bureaucracy would not talk to the roads ministry. Now, we get our bureaucrats to pick up the phone and talk to each other. If necessary, the ministers talk to each other. That's why we're able to build so many roads.

That may or may not be a fact. But in one case, at least, it is clear the ministers did not talk to each other. The Enforcement Directorate, which answers to the ministry of finance, has a money-laundering complaint against Lalit Modi and wants to interrogate him. Modi said he could not come to India because his passport had been cancelled. In August 2014, the Delhi high court ruled that his passport must be returned to him. Why isn't the ED pressing for his return to India so that he can be examined and questioned?

External Affairs Minister Sushma Swaraj is being pilloried for telling the British government to let Lalit Modi travel abroad during the period he did not have a passport. Now that he has one, the ED seems in no hurry to ensure his return to India. Couldn't the ministries of finance and external affairs -- or the ministers – have picked up the phone and consulted each other on the matter? Why didn't they?

Here's the thing. Swaraj is a darling of the Opposition. As speaker, Communist Party of India (Marxist) leader Somnath Chatterjee had paid her fulsome compliments. Samajwadi Party chief Mulayam Singh Yadav has defended her in the instant case. But there are not too many in her own party who are coming out to speak in her favour. Why?

Part of the reason is her personality. Swaraj is a professional politician as distinct from a social climber posturing as politician. She doesn't waste time entertaining reporters, fellow partymen, MLAs and so on. And when she's given a job, she is decisive to the point of ruthlessness. When she was asked to contest the Bellary seat against Sonia Gandhi in 1999 (Gandhi polled 51.7 per cent of the vote, Swaraj 44.7 per cent), she created a party there that had never really existed before. In the Karnataka Assembly election that followed, the largest number of MLAs in the Bharatiya Janata Party Legislature Party in the Vidhana Soudha came from Bellary.

At the same time, she was highly critical of party colleague Jaswant Singh's conduct in the context of the Jinnah book and the one to tell him that he should resign from the chairmanship of the public accounts committee in 2009 after he was expelled from the BJP. The BJP argued that the chairmanship of the PAC was held by a member of the principal opposition party and as he was no longer a member, he needed to step down.
Swaraj was the one who carried this message to him: he, a founder member of the BJP. She agreed with Atal Bihari Vajpayee in the wake of the Godhra riots that Narendra Modi had neglected 'raj dharma' but when Chandrababu Naidu threatened to withdraw support to the National Democratic Alliance on that issue, she dug in like other partymen, and said Modi could not be replaced under pressure. She is a person with strong likes and dislikes: and while she has admirers, she lacks real friends.

There are some things about her that jar. For the modern urban woman, it is embarrassing to see a woman as competent and articulate as Swaraj observing the karva chauth rituals in all their garishness. But when the Sri Ram Sene began beating up young women to prevent them from visiting pubs, she criticised them trenchantly: My daughter goes to pubs with her friends, she said, she doesn't drink because that's the way she has been brought up. And if she does decide to have a glass of wine, well, that's up to her. Her lawyer daughter has had the best possible education -- London School of Economics, Oxford and the Inner Temple.

For some reason, chatter has gained ground that she is an outsider in the Sangh. This is wrong and could be because of her connections with the socialist movement via her husband Swaraj Kaushal, who was a whole-timer in the Socialist Party. Sushma Swaraj was part of the Akhil Bharatiya Vidyarthi Parishad while studying in Panjab University and actually came to Delhi to campaign for Arun Jaitley, when the latter contested the election for the Delhi University Students' Union in 1974. In 1985, she joined the BJP and stayed there.

Swaraj is a good teacher and doesn't see fresh talent as a threat: during her tenure as leader of opposition, many first-time MPs from the BJP got a chance to speak in the Lok Sabha. On the other hand, it is also true that it was Swaraj who resisted the elevation of new faces such as Nirmala Sitharaman because she saw them as Jaitley's proteges. She was one of the few in the party who spoke in favour of retaining Vasundhara Raje as the Rajasthan leader of the opposition when Raje defied her party, which wanted her to take the moral responsibility for the BJP's defeat in the 2009 Lok Sabha and Assembly elections in Rajasthan. Swaraj's argument was, it takes minutes to destroy a leader but years to create one.
She has delivered many memorable speeches but her best one has to be the one in Odia, when she visited Odisha four days after the BJP and the Naveen Patnaik-led Biju Janata Dal government parted ways (2009). In his entire tenure as chief minister, Patnaik is yet to give a public speech in Odia.

Swaraj is a fighter who follows her own code. Those who think she's a pushover are making a mistake.