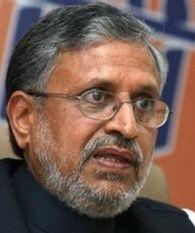 Keeping up the party's attack on Bihar Chief Minister Nitish Kumar, senior BJP leader and former deputy chief minister Sushil Kumar Modi today lambasted him for allegedly taking Congress help to stay on in power and betraying the mandate of the people.
"It is regrettable that the chief minister has taken support of Congress to keep the JD-U government afloat in Bihar after knowing well that it the same party which had tried to suppress democracy by imposing emergency in the country on June 25, 1975," Modi said at a function to mark imposition of emergency 38 years ago.
Criticising Kumar for allegedly betraying the mandate for NDA in two consecutive assembly polls, he said the people of Bihar had voted on the development and good governance and not on the issue of the country's next prime minister.
"It is great irony and injustice to the people of Bihar that both RJD and JD(U) had joined under the banner of the Congress, which too was responsible for perpetuation of 'jungle raj' in Bihar for 15 years under the erstwhile RJD rule.
"Congress has not lost an iota of its dictatorial and repressive attitude and yet the chief minister has chosen to take its support to stick to power in Bihar," he said without naming Kumar.
He (Kumar) had let go his life time "political capital in one stroke" by aligning with the Congress, against whose ideology he had built his political career, the BJP leader said.
"We would like the chief minister to explain his stand on the Congress and honestly tell the people of Bihar what compromise he had to make to take its help to muster majority after choosing to part ways with NDA by taking a principled stand to stop Gujarat Chief Minister Narendra Modi from becoming prime minister," he added.