A top army commander on Thursday said the surgical strikes carried out last year at terror camps in Pakistan-occupied Kashmir were intended to convey the message that the Line of Control can be breached whenever the need arises.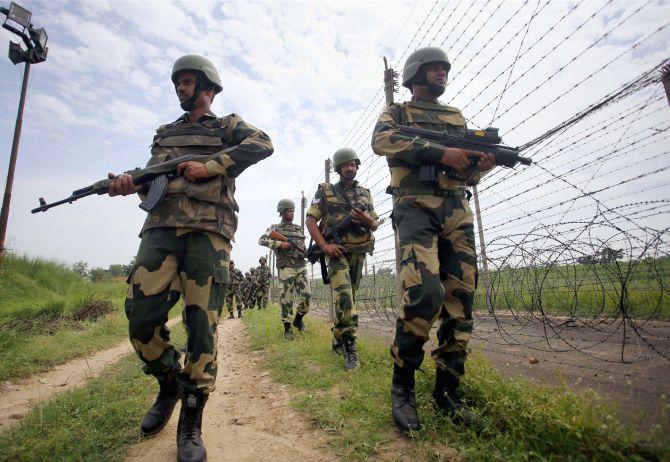 Lt Gen Devraj Anbu, General Officer Commanding-in-Chief of Northern Command, also ruled out any Doklam type stand-off between the armies of India and China in Ladakh sector of the Line of Actual Control, saying a multi-tier mechanism is in place to resolve any issue that may arise due to differences in perception of the border.
He was addressing a press conference after presenting gallantry and distinguished services medals to 103 army officers and jawans and certificates of appreciation to 31 units apart from 31 civilians at an investiture ceremony at the Northern Command headquarters in Jammu and Kashmir's Udhampur.
During the media interaction, he referred to the surgical strikes carried out by the Indian special forces at terror camps across the LoC in September last year.
"The surgical strike was a point we wanted to drive home across -- that the Line of Control is not a line that cannot be breached. When we want to, we will be able to breach it, go across and strike when we need. This was the message we wanted to convey and we did," he said.
Replying to a volley of questions about the possibility of Doklam-type standoff between the armies of India and China in Ladakh, Gen Anbu said, "I don't expect Doklam-like situation to take place. It is not working here."
He said both countries have their own perception about the LAC and "therefore, we try to dominate these areas by patrolling. In the process, (if) you have certain face-offs and any issues arising out of this due to difference of perception, we have mechanism which is in place."
In Doklam area in the Sikkim sector, the armies of India and China were in a face-off situation for over 70 days before the two sides agreed last week to "disengage".
The army commander said the mechanism is "well-placed", from the lowest level to highest level and "whatever issues are raised, we deal with them on daily basis. Meetings take place and hotline communication is available to resolve whatever the differences are."
To a question about China building huge infrastructure near 'finger 4' point along the LAC in Ladakh, he said, "They (China) are on the banks of Pangoso (Lake). There are 'finger' 4, 5, 6, 7 and 8. Finger 8 is the farthest one which the PLA controls and finger 4 is in our control."
He added, "sometimes, face-offs and some incidents do happen but they are resolved as we have good relations there."
As far infrastructure on the Indian side is concerned, he said, "We have progressed a lot in last 10 years in eastern Ladakh."
Replying to a question about construction of a bridge by the PLA on a stream after entering Indian territory in Dhamchok area of Ladakh, he said, "The bridge, you are mentioning, is not a bridge but a small log. It's the Line of Actual Control where the perception defers. They have a different perception (of LAC) and we have also a different perception at that particular place where the contention is.
"Therefore, the issue has been raised and we are dealing it with in a manner available to us to take it up with the PLA and resolve the issue," he added.
The army commander said, "We are totally in control of the area concerned but the issue related to Dhamchok is basically about taking cattle for grazing on both the sides -- on our side as well as the PLA side".
He said it is around that area that these log bridges have come up to facilitate grazing.
"We exactly know where our claimed lines lie and what we need to do to be able to effectively deal with the PLA on the matter. We are in full control," he added.
Images used for representational purposes only. Photograph: PTI Photo