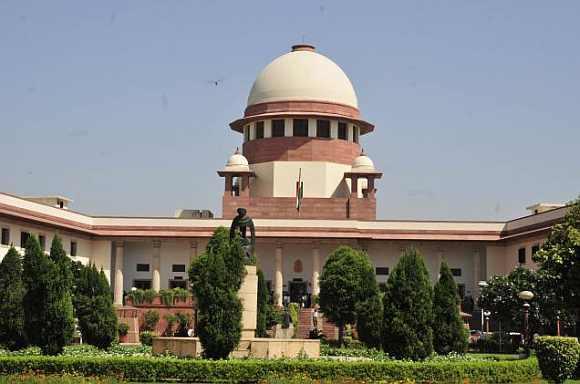 A day after the Supreme Court deferred hearing the Ram Janmabhoomi-Babri Masjid land dispute, a Haryana minister mocked the apex court's decision and Uttar Pradesh Chief Minister Yogi Adityanath said justice delayed can be justice denied.
"The matter pertaining to Shri Ram Janmabhoomi is before the Supreme Court. Justice delivered timely is considered to be the best justice. Delay in justice sometimes amounts to injustice," Adityanath tweeted Tuesday in Hindi.
But at the same time, the tweet appealed to the seers demanding early construction of a Ram temple at the disputed site in Ayodhya to exercise patience.
The UP chief minister stopped short of demanding that the Centre bring legislation to allow the construction of the Ram temple, while suggesting that "all alternatives" to resolve the issue should be explored.
But the demand for a law was reiterated Tuesday by the Vishwa Hindu Parishad.
"It's up to the Centre whether they bring an ordinance or a bill. We want a law which ensures that rights of the land are transferred to Shriram Janmabhoomi Mukti Yajna Samiti for construction of the Ram temple," VHP's international working president Alok Kumar told PTI.
Legal experts do not back the demand for an ordinance, voiced by some other saffron outfits as well.
Senior jurists Rakesh Dwivedi and Ajit Kumar Sinha said there is no bar on the Centre to bring an ordinance for early construction of a Ram temple but propriety demanded that the government should wait for the Supreme Court's verdict.
While Adityanath told reporters on the sidelines of an event in Lucknow that it would have been better had the Supreme Court decided to hear the land dispute early, a BJP colleague in Haryana went a step further.
"Supreme Court mahan hai (The Supreme Court is great)," Haryana's Health Minister Anil Vij said, using the phrase twice in a tweet that seemed to mock the apex court decision.
He compared the decision to defer the Ayodhya title suit hearing to the late-night hearing on a plea to delay the hanging of Mumbai attacks convict Yakub Memon.
"If it so wishes, it can open its doors on 29 July 2014 for an appeal to delay the death sentence awarded to 1993 Mumbai serial blasts convict Yakub Memon. And if it wants, it can give a date on the issue of Ram Mandir, for which crores of Indians are eagerly waiting. The Supreme Court is great," the Haryana minister's tweet in Hindi read.
The pre-dawn Yakub Memon hearing actually took place on July 30, 2015.
The apex court Monday said the course of hearings in the Ram Janmabhoomi-Babri Masjid land dispute will be decided in the first week of January by an appropriate bench.
The court decision intensified demands by the RSS and its affiliated organisation that the government should bring a law allowing construction of a Ram temple at the disputed site.