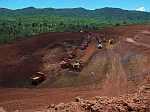 Mining operations in all the 90 mines in Goa were ordered to be halted by the Supreme Court on Friday on the basis of the Justice M B Shah Commission report which estimated a whopping Rs 35,000 crore loss to the exchequer due to illegal mining in the last 12 years.

Mining companies have also been restrained from exporting and selling ores, which has already been extracted.

A three-judge bench headed by Justice Aftab Alam took note of the commission's report and issued notice to the Centre and the state government. The bench also asked the apex court-appointed central empowered committee to submit its report on the illegal mining in the state within four weeks.
The bench passed the order on a public interest litigation filed by an NGO, Goa Foundation, seeking probe in the illegal mining activities in the state.
The state government had on September 10 temporarily suspended all mining operations till October 2012, but the petitioner alleged that suspension did not affect the trade as the private companies are transporting the ores from mines.
The court is already seized of the illegal mining cases in Karnataka where, after halting all mining activities for more than year, it had on September 3 allowed operations in only 18 mines out of more than 100 mines where the irregularities were minimum.
Advocate Prashant Bhushan, appearing for the NGO submitted that all the mining leases in the state suffer from illegality and many of them are suffering from multiple illegalities.
The NGO also sought setting up of a special probe team to investigate the alleged loss to the state revenue, the illegalities committed in mining activities and the connivance of public servants in abetting the same. It said in the petition that the commission's report tabled in the Parliament on September 7 stated that "illegal activities in mining were underway since the year 2000" and that all the 90 mines in the state were functioning without the mandatory permission from the National Board of Wild Life and 33 of these were within 1.5 km of the wildlife sanctuaries, well inside the eco-sensitive zone notified by the NBWL.
"The failure of the state to control the illegal mining has led to large-scale destruction of both the forest and non-forest land and as such has adversely affected the livelihood of local people, especially the rural poor," the petition said.
It said due to lack of co-ordination between the department of mines and Goa State Pollution Control Board, the mines were set up in forest and eco-sensitive areas, close to the streams and rivers, causing severe air and water pollution, degradation of the environment and the loss of bio-diversity.
Referring to the commission's report, the NGO alleged that the mining leases were renewed without prior approval under the Forest Conservation Act 1980.