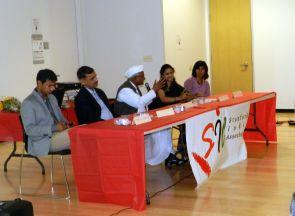 About 200 students mainly from Stanford University attended the 'Meet Anna Hazare' event hosted by Stanford India Association, at the Stanford Graduate Community Center on Saturday.
The anti-corruption crusader spoke about his movement against corruption and asked the students in Hindi, "I need one year of yours and I do not want money. I just need your heart." He said he needed technology support to expand his movement.
Hazare said his movement was on Facebook and they were using social media to run the campaign, "but they are not as advanced as it should be," he said.
"I travelled to six states and have 50,000 people, but to stay connected with them, I want to video conference," said Hazare.
He reiterated, "If you really want to support, help me through technology."
He said there are movements in other parts of the world that have resulted in the loss of life and property, but his 'satyagraha' is non-violent -- no loss of blood or wealth. He said he believes that a movement should be such that while "you suffer in the heart, people feel the pain."
Hazare was asked questions about his vision for India and his views on the Aam Aadmi Party founded by Arvind Kejriwal.
Hazare said Kejriwal was his friend and he liked him, but added that he does not want to support any political party.
On being asked about the coming 2014 election and which party to support, Hazare said that people should elect someone with a strong character, who is honest. He said he was not a supporter of any political party but believed in system transformation.
The hour long event was sponsored by the Center for South Asia Stanford University.
"What he is doing is a huge challenge," said Sangeeta Mediratta, associate director, the Center for South Asia Stanford University. "His work is magnificent but how it will actually work in terms of policies of the country we have to see. He is very humble yet he is very ambitious that's the contrast. His ambition is for others, for change and that is a big vision."
Pranjali Sirasao, who teaches Hindi at the University of California Berkeley and was a moderator at the event said, "I really believe that one man can bring change and that is what we saw in 2011. So I believe if one man decides he can bring the whole country together, he can make the path for himself and others to follow."
Sharing her views on who to vote for, she said, Hazare is trying to say instead of voting for a political party, vote for the candidate. But it's difficult to have that ideal situation, where there is no party and we are voting for an individual, "I think they have to find a common ground."
However, many students felt Hazare did not speak anything new. "I wanted to know how does he makes sure that these things won't get repeated?," asked Suril Shah, a student at Stanford University."
He talked on how to gather 6 crore people. How he is going to sustain it for a long period of time. The movement dries up quickly?" asked another student Arpan Shah.
"Delhi Assembly elections are coming up and we'll see how the Aam Admi Part performs. This issue is about where they get votes from. Are they cutting BJP or Congress votes. It would be the first time the Aam Admi party proves itself. I think based on that we can take a decision," said Suril Shah.
"I liked his focus," said Vaibhav Kumar, another student of Stanford University. He supports Arvind Kejriwal as a friend, but when it came to the matter of constitution he is willing to take his stand, that I think is commendable."
Hazare along with Kiren Bedi received a huge welcome at the India Community Center in Milpitas on August 23, where about 500 people attended.
Though Aam Admi party was not allowed to distribute flyers inside the community Center, they were allowed to stand at the entrance gate to distribute it.