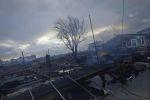 The death toll in Superstorm Sandy-hit areas climbed to 92 on Friday, as the United States came to terms with the enormity of the disaster that has caused an estimated economic damage of up to USD 50 billion.
Superstorm Sandy howled over a series of countries, killing 92 in the United States itself. New York state, the worst-hit, had 48 deaths, including 41 in New York City, authorities said.
Disaster modelling company firm EQECAT estimates the total economic damage from the superstorm at between USD 30 billion and USD 50 billion, the CNN reported.
The pre-storm estimate was up to USD 20 billion.
The death toll seemed certain to rise as rescuers checked basements that had flooded, trapping homeowners inside. The wall of water driven ashore by the storm even flooded three police stations, two in Brooklyn and one in the Rockaway section of Queens.
Fifteen people in the Far Rockaway section of Queens and nine in Coney Island were charged with burglary and other offenses in connection with looting at stores, taking advantage of the natural calamity which hit the region on Monday.
Among them was a 29-year-old woman who faced a weapons charge "after the safe she was carrying from a store was found to contain a firearm," Paul J Browne, the chief spokesman for the police department, said.