Front-runners Donald Trump and Hillary Clinton on Tuesday fast tracked their race to the White House after posting big wins in a decisive multi-state vote to stay on course for clinching their parties' presidential nominations.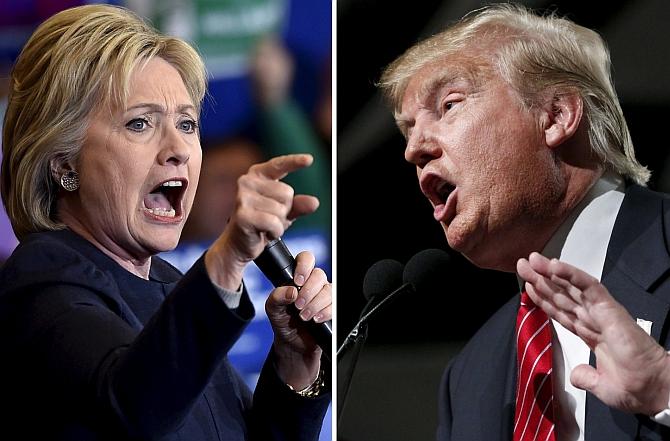 Republican Donald Trump and Democrat Hillary Clinton on Wednesday won pivotal primaries in the hotly-contested US presidential polls and an epic clash between the two front-runners seemed imminent as they nearly knocked out their rivals to secure their parties' nomination.
Trump kept his substantial delegate lead by winning at least three Republican contests, including his knockout victory in Florida that pushed rival and Senator from the state Marco Rubio out of the race. Trump emphatically won Florida, the biggest prize on 'Super Tuesday 2.0', including all 99 of its delegates.
The 69-year-old real estate tycoon registered impressive wins in Florida, Illinois and North Carolina but lost to Ohio Governor John Kasich in his home state.
Clinton, 68, took big strides toward the Democratic nomination by winning Florida and North Carolina while also posting crucial victories over rival Bernie Sanders in the industrial Midwest by taking Ohio and Illinois.
Both Clinton and Trump piled up the delegates, much more than their nearest opponents, but both of them were still at a distance from securing the number of delegates required to be declared their respective parties' presidential nominee.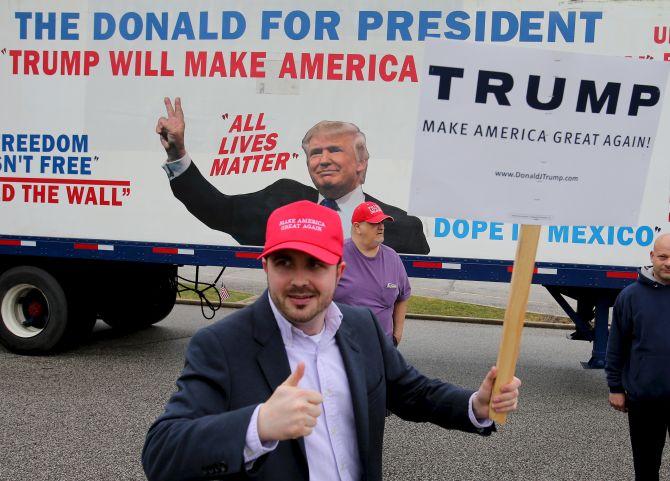 IMAGE: Bob Bolus, a supporter of US Republican presidential candidate Donald Trump, gives the thumbs up to drivers as they pass by on Super Tuesday in Middleburg Heights, Ohio. Photograph: Aaron Josefczyk/Reuters
Trump was leading in the delegate count with 621. Texas Senator Ted Cruz had 396 delegates, Rubio 168 and Kasich 138.
Trump in his victory speech in Miami exuded confidence on winning the race and defeating his presumptive Democratic rival Clinton in the November polls. "This was a great evening," he said. "This was an amazing evening."
"We have to bring our party together. We have something happening that makes the Republican party the story over the world. Millions of people are joining the party. We have a great opportunity. Democrats are coming in. Independents are coming in," Trump said.
The Republican party, meanwhile, veered closer to a contested convention after Kasich held his own state and deprived Trump of its 66 delegates. That makes it more difficult for the billionaire to reach the 1,237 delegates he needs to capture the Republican nomination.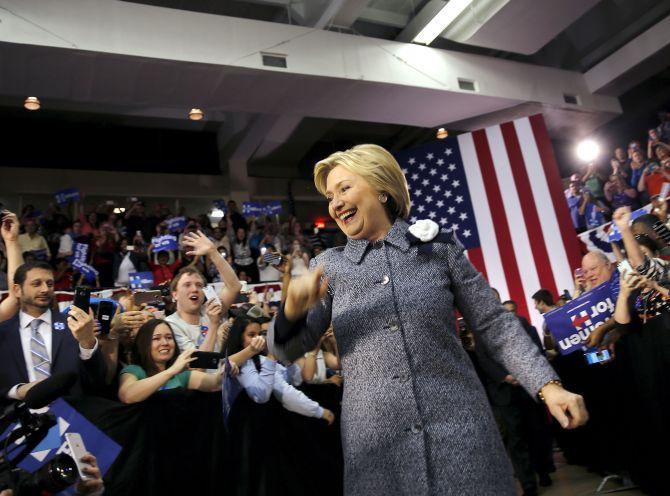 IMAGE: Democratic US Presidential candidate Hillary Clinton arrives at a campaign rally at a community center in Charlotte, North Carolina. Photograph: Carlos Barria/Reuters
Based on the primary results, political pundits say Clinton in all probability is on her way to become the first woman presidential nominee of the Democratic party in the November 8 polls.
This was also evident in her victory speech as she used the occasion to attack Trump.
"When we hear a candidate for president call for rounding up 12 million immigrants, banning all Muslims from entering the United States, when he embraces torture, that doesn't make him strong, it makes him wrong," Clinton said.
"We should be bringing down barriers, not building walls. You know, to be great, we can't be small. We can't lose what made America great in the first place," she said amid applause and cheer from her supporters in West palm Beach, Florida.
The former Secretary of State now has 1,561 delegates as against 800 of her rival Sanders. She needs 2,382 of the 4,763 Democratic party delegates before the Philadelphia convention in July.
Sanders said he would continue with his campaign and has not given up despite the setback on Wednesday.
The only state whose results were still awaited was Missouri where Trump and Cruz were locked in a neck-and-neck race while on the Democratic side Clinton and Sanders were in a dead heat.
Vote counting was completed for the night in Missouri with both Clinton and Trump clinging to tight leads of less than half a percentage point, but US television networks did not project a winner in either contest as the margin of victory in each case is less than 1 percentage point.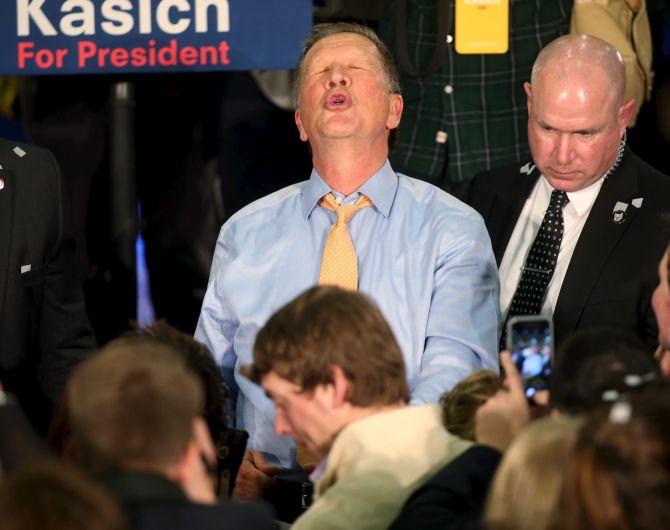 IMAGE: Governor John Kasich celebrates after winning the Ohio Republican primary election during a campaign rally in Berea, Ohio. Photograph: Aaron Josefczyk/Reuters
Rubio was the only candidate on the either side to have dropped out of the race after his dismal performance.
However, he finally secured praise from his bitter rival Trump.
"He (Rubio) has a great future," Trump said, exuding confidence that he would be able cross the halfway mark of 1,237 delegates much before the Republican convention in July.
"We have something happening that actually makes the Republican party the biggest political story anywhere in the world. Millions of people are coming out to vote...I think we're going to have a great victory," Trump said, claiming that he would defeat Clinton in the presidential elections.
Cruz, who was unable to score a win, claimed that the Republican primary race was not yet over and that he could overtake the delegate count of Trump.
He urged all the anti-Trump groups in the party to join his campaign.
But Ohio Governor, Kasich, who scored his first win and has 138 delegates in his account, said he would go all the way to the Cleveland convention to fight for his nomination.
Kasich's time has just begun, his campaign said.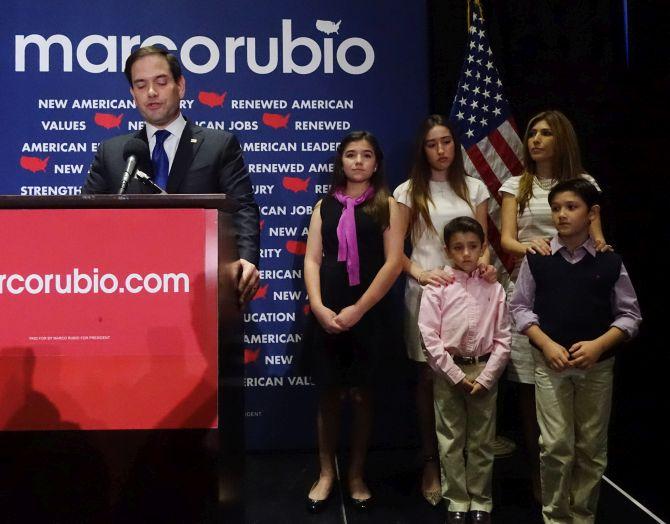 IMAGE: Senator Marco Rubio flanked by his family announces he's suspending his campaign after losing his home state to Republican rival Donald Trump. Photograph: Angel Valentin/Getty Images
Political observers say a contested convention is a possibility as Trump may fall short of the delegate count for nomination.
However, rith wins in 18 states so far, Trump is far ahead of others in terms of delegate count.
"There is great anger among the people. They want to see the country run properly," Trump said as he gave his characteristic speech reiterating his stand on terrorism, trade and the wall along the US-Mexico border.
"We are going to make the best trade deal that you have ever seen. We need protection in the country. This country is going to start winning again," Trump said, adding that the US is no longer winning in trade with countries like China, Germany, Japan, Vietnam and India.
In his speech, Trump said Apple would be manufacturing its iPhone in the US and not in China.
Reiterating his resolve to rebuild the military, Trump said he would defeat the Islamic State and win against terrorism.