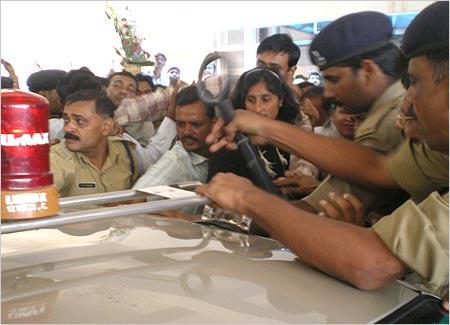 A visit to the Sabarmati Ashram to pay homage to her slain cousin and touring scientific institutions in Hyderabad and Chennai are high on the agenda of Indian-American astronaut Sunita William who arrived in Ahmedabad today on a week-long visit to India.
Williams, who set a record for the longest stay in space by a woman, was welcomed by her father Deepak Pandya and
uncle Vitthal Pandya this morning at the Sardar Patel International Airport.
The astronaut is scheduled to visit the Sabarmati Ashram this evening where she will garland the statue of her
cousin Haren Pandya, a former Gujarat home minister who was murdered in 2003.
Williams will also interact with students of the Gujarat Unviersity in Ahmedabad on Saturday besides talking
about her experiences in space at the 58th International Astronautical Congress which is scheduled to take place in
Hyderabad on September 24-18.
Image: Astronaut Sunita Williams arriving in Ahmedabad airport on Thursday morning | Photograph: Vaihayasi Daniel