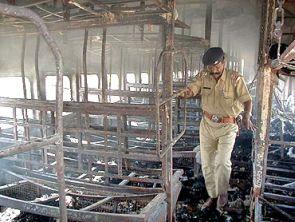 Alleged Rashtriya Swayamsevak Sangh activist Sunil Joshi wanted to kill Justice U C Banerjee who headed an inquiry commission on Godhra train burning case, and had even conducted reconnaissance of his house in Kolkata, according to a witness in the 2006 Malegaon blasts case.
According the witness's statement recorded by NIA, on October 15, 2005 Joshi took him to Kolkata. "On return from Kolkata, I came to know from Joshi that the purpose of the visit was to kill Banerjee," says the witness (name not disclosed) who claims that he refused to have any further association with Joshi.
"Thereafter, I understood that we had conducted reconnaissance of the house of Justice Banerjee," the statement, a part of NIA's chargesheet in 2006 Malegaon case in the court in Mumbai, says.
Justice Banerjee had been appointed as head of Godhra commission by the then Railway Minister Lalu Prasad Yadav. Banerjee, in his report, had said the fire on Sabarmati Express near Godhra in 2002, in which 58 people were burnt to death, triggering widespread riots in Gujarat, was accidental.
Joshi was later murdered. Sadhvi Pragya Singh Thakur (an accused in the 2008 Malegaon blast case) is the key accused in the murder case. Joshi, though one of the accused in the 2006 case, was not chargesheeted.
Maharashtra ATS had arrested nine persons -- Noorul Huda Samsudoha, Shabbir Ahmed Masiullah, Raees Ahmed Rajab Ali Mansuri, Dr Salman Farsi Abdul Latif Aimi, Dr Farogh Iqbal Ahmed Magdumi, Mohammad Ali Alam Sheikh, Asif Khan Bashir Khan alias Junaid, Mohammad Zahid Abdul Majid Ansari and Abrar Ahmed Gulam Ahmed -- in the 2006 case. But NIA, after taking over the investigation, did not oppose their bail applications and all were granted bail.
NIA subsequently said the blasts in Malegaon on September 8, 2006 was the handiwork of a Hindu right-wing group and arrested Lokesh Sharma, Dhan Singh, Manohar Singh and Rajendra Choudhary. All of them were chargesheeted on Thursday.
Image: Policeman inspecting the charred bogies of the Sabarmati Express in Godhra
Photograph: Reuters