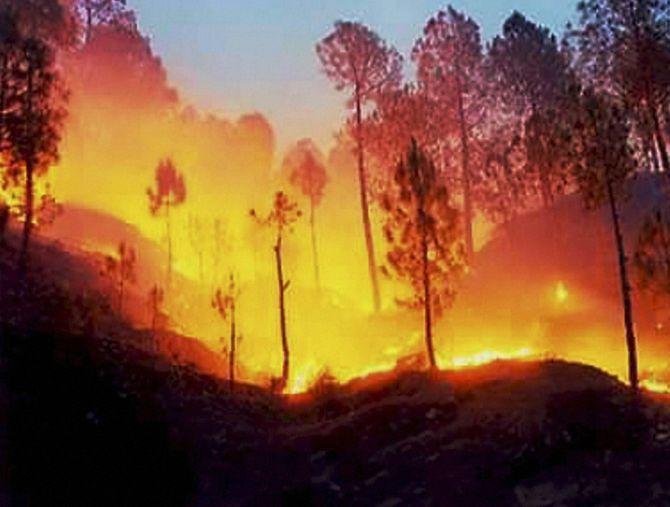 The summer fires in Himachal Pradesh's forests have been brought under control with rains in the lower hills dousing ground fires even as self-help groups comprising villagers have been formed in blaze-prone districts and 700 fire watchers deployed in the pine belt.
HP's Principal Chief Conservator of Forests, S P Vasudeva said on Wednesday the fires have been doused and there is no need for any panic.
"These were ground fires and were limited to some parts, mostly low-hills. The fires are under control now and there is no need for any panic," he said.
Vasudeva said that it had rained yesterday including in the mid and lower hills, which had also helped douse the ground fires.
"It has rained at places including Shimla, Solan and Kasauli. Fires are completely out," Vasudeva told PTI.
He said it would not be correct to compare the situation in HP with Uttarakhand.
"The situation in our state is nowhere close to Uttarakhand," he said, adding "most the fires in Himachal have been ground fires".
Asked about the loss to forest wealth, he said, "Our loss is not that high, it is estimated at around Rs 20 lakh to Rs 30 lakh. Moreover, there is no damage to life or property."
He said the prolonged dry spell and sudden rise in mercury are the reasons for these forest fires, which are an annual phenomenon.
"The ground fires this time occurred in places like Solan, Nahan, Bilaspur, Hamirpur and Una," he said.
1250 square km area is under pine forest cover and ground fires occurred in an area of 5000 hectares or 5 sq km.
A majority of the fires were reported from pine forests. During summers, these trees shed pine needles that are highly inflammable, he said.
IMAGE: The summer fires occurred in an area of 5,000 hectares. Photograph: PTI