A bombing targeted an international convoy in the Afghan capital, Kabul, on Tuesday, only hours after a deadly suicide blast rocked Lashkar Gah in southern Helmand province.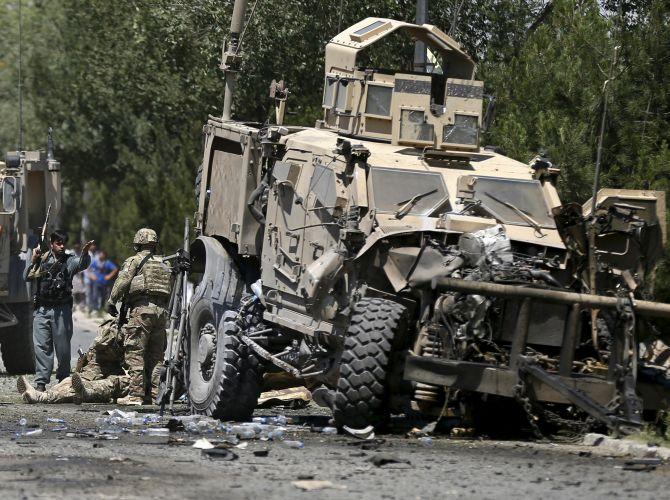 US soldiers attend to a wounded soldier at the site of a suicide bomb attack in Kabul, Afghanistan after a suicide bomber attacked a convoy of foreign troops serving with NATO on the main road running between Kabul's airport and the US embassy. Photograph: Mohammad Ismail/Reuters
A powerful blast echoed around the capital as a suicide car bomber hit a convoy of foreign military vehicles around 500 metres from the US embassy, wounding at least 17 people.
"It was a suicide car bomber targeting a convoy of foreign forces in Kabul," interior ministry spokesman Sediq Sediqqi said.
The blast caused smoke to rise above the city and triggered an alarm in the US Embassy.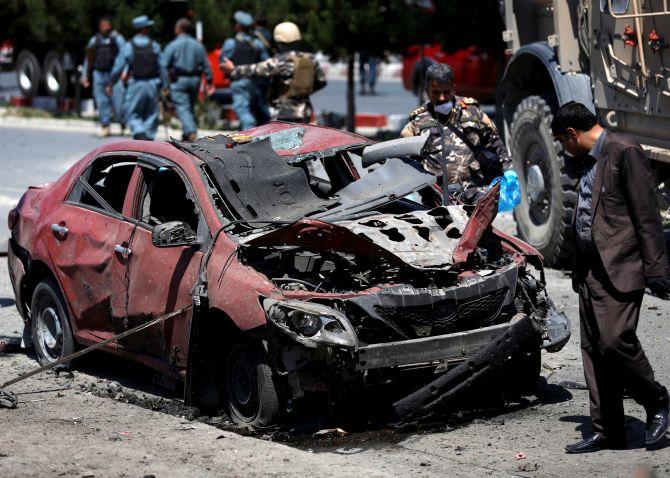 An Afghan security personnel inspects a damaged car at the site of a suicide bomb attack in Kabul. Photograph: Ahmad Masood/Reuters
Taliban spokesman Zabiullah Mujahid claimed responsibility for the suicide attack via Twitter.
Hours earlier at least two civilians were killed when a suicide truck bomb detonated at the gate of the police headquarters in Lashkar Gah, the capital of volatile Helmand province.
The violence came less than two days after 11 soldiers were killed in a Taliban ambush in the normally relatively peaceful western province of Herat.