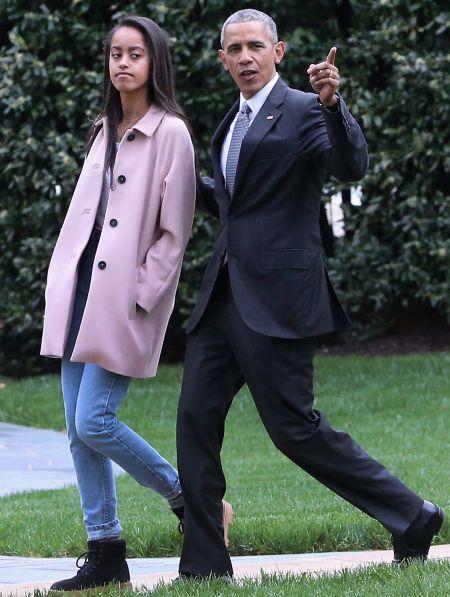 US President Barack Obama said that he cried at the recent high school convocation ceremony of his elder daughter Malia, thinking about how she is graduating at this "extraordinary time" for women in America.
"Some of you may know that on Friday, my elder daughter Malia graduated from high school. And I sat in the back and wore dark glasses," Obama told a gathering of women from across the county at the Women Summit held at the White House.
"And only cried once, but it was -- I made this weird sound because I was choking back -- and people looked at me, people sitting in front of us turned back. And then I suppressed it," Obama said describing the incident.
"I was thinking about how she is graduating at this extraordinary time for women in America," said the 54-year-old US president.
Malia Obama, 17, graduated from the prominent Sidwell Friends School in Washington, DC, last Friday, which was attended by the US president.
She has taken admission at the prominent Harvard University, but she will be taking a year off from studies and will be joining Harvard next year.
In an interaction with Oprah Winfrey, US First Lady Michelle Obama recollected the childhood days of her two daughters -- Malia and Sasha, 15. It would take another two years for Sasha to graduate from high school.
As a result, the First Family has decided to live in Washington, DC after they leave the White House.
"Malia and Sasha were little itty-bitties when we came into office. I mean, it still moves me to tears to think about the first day I put them in the car with their Secret Service agents to go to their first day of school," 52-year-old Michelle said.
"And I saw them leaving and I thought, what on Earth am I doing to these babies? So I knew right then and there my first job was to make sure they were going to be whole and normal and cared for in the midst of all this craziness," Michelle said amidst applause from the audience.
"And then I started to understand that if I was going to protect them, I had to, number one, protect myself and protect my time," she said and then recollected the graduation ceremony of Malia.
"We just went to Malia's high school graduation and we were watching Sasha move her way through high school. I am very proud of those two and how they have managed this situation and how they have continued to be themselves, regular little girls just trying to figure it out," she said.
"As all mothers do, you breathe that sigh of relief that you didn't mess up your kids. Every day I cross my fingers and hope that I'm doing right by them, and I'm providing them with a good foundation so that they can be great people," she added.
Image: US President Barack Obama with his daughter Malia. Photograph: Mark Wilson/Getty Images