India, Japan and the US are set to focus on "anti-submarine warfare" by deploying "different machines" during the next round of their marine wargames named the Malabar Exercise, amidst increasing presence of Chinese underwater vessels in the strategic Indian Ocean region.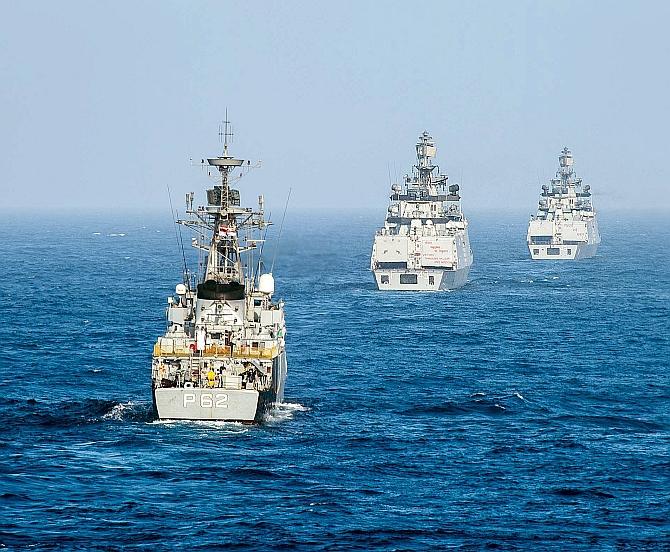 The three countries will come together in the Indian Ocean for the 21st edition of the Malabar exercise -- Malabar 2017, aiming for a "bigger" and "more complex" exercise than before.
"We want to (use) different machines especially now that India flies the P8I (Poseidon). We fly the P8A," Commander of the US Seventh Fleet, Vice Admiral Joseph P Aucoin said.
"I would like those two aircraft working together and to hunt submarines. So anti-submarine warfare is one area which I think would be very beneficial. So I am looking forward to that in Malabar," he told reporters here.
Vice Admiral Aucoin met Indian Navy Chief Admiral Sunil Lamba and other senior officers to chalk out the dates and strategy of the exercise, likely to be held after the monsoon.
The exercise has assumed significance as it is being held at a time when China has become more assertive, and their submarines' forays in the Indian Ocean region have increased.
The Chinese are set to monitor the exercise like they did last year when India, US and Japan participated in the exercise together in the Japanese waters off the Pacific.
Vice Admiral Aucoin, who spoke on a number of issues, said he was looking forward to the implementation of the Logistics Exchange Memorandum of Agreement between India and the US.
He said the implementation of LEMOA may take some more time, but hoped that within a couple of years, it would be clear what possibilities are there.
The US has shared its "points of contact" -- the details of designated officials to whom the US military would have to send its request for logistics support under LEMOA -- but India is yet to share the list.
Another problem is that common accounting system for the three services also needed to be worked out.
The US commander also spoke out against militarisation of the strategic South China Sea region, through which an annual trade of $5 billion flows.
He termed the situation in the region "dynamic" and asked countries to desist from aggressive land reclamation.
He said India's settling of maritime disputes with Bangladesh should be a "terrific path forward" for other countries.
Image: The Indian Navy Kora-class corvette INS Kirch (P62) and Shivalik-class stealth multi-role frigates INS Sahyadri (F49) and INS Satpura (F48) transit while conducting a live-fire surface gun exercise during Malabar 2016. Photograph: Petty Officer 2nd Class Ryan Batchelder/US Navy