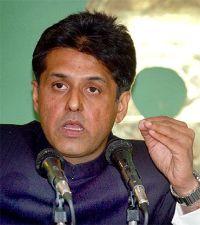 Information and Broadcasting Minister Manish Tewari on Wednesday said states should implement the decisions of the censor board regarding screening of films but refrained from commenting on Kamal Haasan's controversial movie 'Vishwaroopam' saying the matter was in court.
"Since the high court has once again taken the matter within its purview, it would be inappropriate to comment on it. We would allow the high court to take cognisance of the matter holistically and come to whatever conclusion it considers appropriate. Because it's been a tradition that we do not comment on matters which are sub-judice," Tewari said in New Delhi.
"I think the time has come to re-examine as to how states can be made to implement decisions which fall exclusively in the purview of the central government under the constitutional scheme of things. In terms of entry 60 of list one, it is the central government which exercises power through Central Board of Film Certification which does certify as to which film is appropriate for exhibition and which is not," he added.
He said once the film certification board arrives at a particular conclusion, it is incumbent upon state governments to implement that decision and added the Supreme Court in the Prakash Jha matter had taken this view.
"But now since the division bench of the high court has taken cognisance of the matter again, it would be better to refrain from making any proactive or any specific statement on Vishwaroopam," Tewari said.
In response to another question, Tewari said film actor Shah Rukh Khan had already clarified about his statement and he did not feel there was any need to say more.