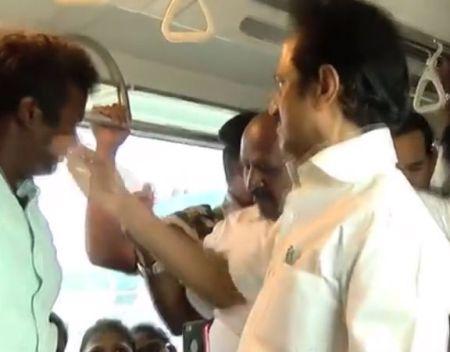 Dravida Munnetra Kazagham leader M K Stalin was in the midst of a controversy on Thursday after a video showed him allegedly slapping a fellow passenger on board a metro train.
The video shows the DMK leader and son of former Chief Minister M Karunanidhi, to be hitting a passenger with the back of his hand. The man at the receiving end seems gob-smacked.
The passenger, reportedly a party worker, who was standing alongside Stalin, was then asked to move from there.
"I did not slap him, I only gestured him to move away from a woman whose feet was being trampled by the passenger. My hand (inadvertently) touched his face while gesturing," Stalin said when asked on the issue.
Video footages of Stalin allegedly slapping a passenger in a metro train on Wednesday went viral on Thursday with Tamil Nadu Chief Minister Jayalalithaa condemning the incident.
"This is strongly condemnable, such an uncivilised behaviour is unbecoming of an MLA," the AIADMK supremo said in a statement.
She also charged that Stalin travelled in the train only for "vain publicity and to seek political mileage."
On Wednesday, besides Stalin, DMDK chief Vijayakanth too took a ride in the newly launched Chennai Metro. Both Stalin and Vijayakanth said that the project was initiated by the previous DMK regime.
Image: A screen grab from the video which shows Stalin slapping a man.