Stalin's elevation comes amid threats by his elder brother and expelled DMK leader M K Alagiri that the party will have to face "consequences" if he is not re-admitted into its fold.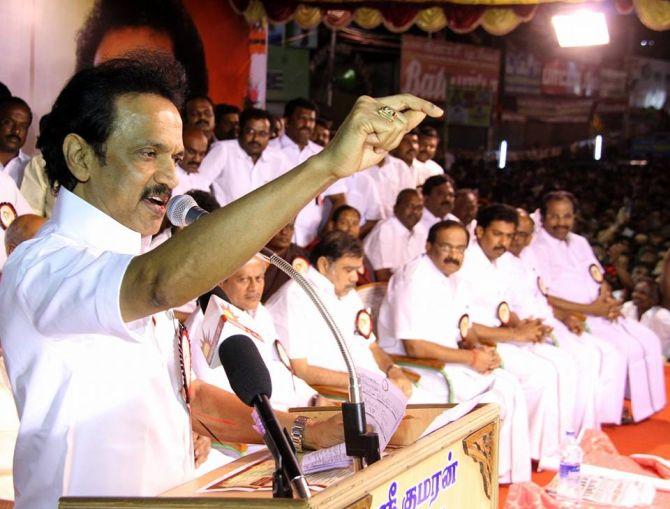 M K Stalin was on Tuesday elected the new president of the Dravida Munnetra Kazagham unopposed, assuming the reins of Tamil Nadu's main opposition party his father the late M Karunanidhi controlled for nearly half-century, disregarding whimpers of protest by his elder brother M K Alagiri.
The elevation of Stalin, the DMK working president whom Karunanidhi had anointed his successor during his lifetime after he began keeping indifferent health, was
announced at a meeting of the DMK's General Council by party general secretary K Anbazhagan.
His was the only nomination for the top party position, Anbazhagan said, as DMK leaders and workers greeted the announcement of the elevation of "Thalapathy" with loud cheers.
A week after Karunanidhi's death on August 7, Alagiri, a former union minister who was expelled from the DMK by his father in 2014 at the height of his fight for supremacy with Stalin, had hinted at a succession was with the younger sibling, claiming "real" partymen were with him.
He had on Monday warned of "consequences" for the DMK if he was not taken back, and said "Kalaingar (Karunanidhi) is not there now. The party has to be saved and protected".
Alagiri, who has pockets of influence in the Madurai region, has planned a rally of his supporters on September 5, in an apparent show of strength.
In his maiden address to the General Council after his election, Stalin asked the party cadre to teach a lesson to the Bharatiya Janata Party-led National Democratic Alliance government, accusing it of trying to polarise the country.
"The Narendra Modi government is trying to paint the nation in the colour saffron (a symbol of Hindutva). Let's teach it a lesson," he said.
Targeting the All India Anna Dravida Munnetra Kazhagam government in Tamil Nadu, he called it a "spineless" dispensation which needed to be "thrown out".
His voice often choked with emotion, the 6-time MLA and a former deputy chief minister, said he had a dream of a beautiful future for Tamil Nadu.
"Let's realise this dream of a beautiful future together... let's march together," he said, sending out the message of inclusivity as the party's rank and file rallied behind him despite a recalcitrant Alagiri.
Stalin said he never dreamed of becoming the president of the DMK, which treated all as equal, irrespective of their position in the party.
He asked the party cadre to raise their voice against him if he committed a mistake.
"The realisation of the dream begins this very moment. I have the dream of a happy, beautiful new life for Tamil Nadu which I am committed to. Let the change begin from us. The Stalin that you see and hear today has been born anew," he said.
While making it clear that the DMK will stick to its Dravidian and rationalist ideals, Stalin, however, said, "We will respect the beliefs of others even if we do not have
faith (in those). We are not those who oppose God."
The General Council adopted a resolution abolishing the post of the working president to which Stalin was appointed in January 2017. He also continued to be the DMK treasurer, a post he vacated recently to pave the way for the party's principal secretary Durai Murugan's elevation at the general council meeting on Tuesday.
Anbazhagan, a party veteran, recalled how Karunanidhi had once said he had not performed any duties for Stalin's progress as a father, but he had performed his duties and made him proud as a son.
The General Council wanted "Kalaignar's son" to become party president, Anbazhagan said. Karunanidhi was fondly addressed as Kalaignar (the artiste) and Thalaivar (the leader) by his ardent followers.
Tracing Stalin's political journey, Anbazhagan recalled his sacrifice when he was arrested under the stringent Maintenance of Internal Security Act during
Emergency and put behind bars.
Oblivious to Alagiri's continued criticism and his questioning of Stalin's leadership credentials, the DMK's district units and frontal organisations rallied behind him and adopted resolutions backing him for the top party post.
Congress president Rahul Gandhi and West Bengal Chief Minister Mamata Banerjee congratulated Stalin on his elevation.
"Congratulations to Shri M K Stalin on being elected president of the DMK. I wish him happiness & success as he begins a new chapter in his political journey. @mkstalin #DMKThalaivarStalin," Gandhi said on Twitter.
Banerjee also took to Twitter to greet the 65 year-old leader.
"Congratulations and best wishes to @mkstalin for being elected President of the DMK @arivalayam," the TMC chief wrote on the micro-blogging site.
Marumalarchi Dravida Munnetra Kazhagam founder Vaiko also greeted Stalin, wishing him success and a long life.