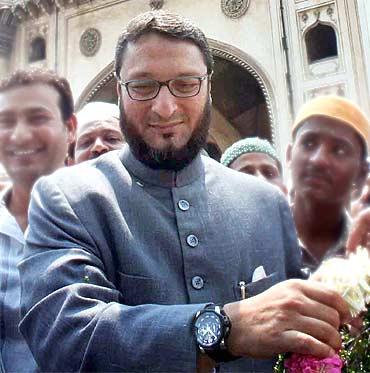 "The All-party delegation's members meeting with All Party Hurriyat Conference's chairman Geelani was a first step forward in breaking the ice," said Asaduddin Owaisi of the All India Majlis-e-Ittihadul Muslimin, while speaking to rediff.com from Srinagar.


Owaisi was one of the members of the group who went to see Hurriyat's hard line leader Syed Ali Shah Geelani. In a telephonic covnersation from Srinagar, Owaisi, the Lok Sabha member from Hyderabad, said he didn't agree with many things that Geelani said.
Communist Party of India-Marxist's MP Sitaram Yechury led the delegation of senior politicians to Geelani's home when the latter refused to attend the delegation's meeting.
Owaisi said, ' When seperatist leaders refused to meet the all party delegation, we decided to call on them. I disagree with Geelaniji on many issues. We don't believe in his idea of azadi (freedom) of Kashmir. Still, we were able to break the ice. We also feel sorry to see deaths of innocents."
"No Congress leader or Bharatiya Janata Party's Arun Jaitley joined the group that went to see Gilani or Mirwaiz Farooq because the government believed that at this stage it was not proper for cabinet ministers to meet separatists leaders in the Valley," said Yechury. Jaitley is the Leader of the Opposition in the Rajya Sabha and enjoys the same status as that of a cabinet minister.
When the delegation reached Geelani's home he told the delegation that he can't serve them tea with milk because milk was unavailable in Srinagar. Then, he repeated his five-point demand which include India's acceptance that Kashmir is a "dispute" and that all the political prisoners in Kashmir should be released. He also elaborated that how the "fauj"(army) is sent everywhere and how it controls things in the state.
The members allowed Geelani to speak. He was looking elated when Indian leaders came calling at his door. Even at this ripe age he was the centre of attraction. The Indian delegation thought it fit to visit Kashmir's most-known anti-India face because, as Owaisi says, " We had to find the meeting point. Somewhere a beginning had be made."
However, in substance nothing changed much. Geelani was firm, stubborn and repetitive. Geelani however was not in a sombre mood.  He clearly said, "Kashmir's youth would perish or get azadi (freedom)."
While Yechury, matured and equally firm, told Geelani, "India is saddled with parliament's resolution that says that Kashmir is integral part of India."  Geelani dismissed it by saying that it's merely "a resolution."
The all-party delegation to J & K is led by Home Minister P Chidambram. In the meetings in Sringar, Chidambaram and 28 other members got a first hand report of the actual situation in Kahsmir and their feedback is expectedly, quite upsetting.
Owaisi said, 'Srinagar is a ghost town. Yeh kya kar diya hai (What have they done)? The people are very angry. It moved us to see that people were searching for milk. We were told that since last three months children were not going to school, medicines or proper food have been in short supply. They said they were being tormented.They can't bear the torture of their youth."

Image: Asaduddin Owaisi