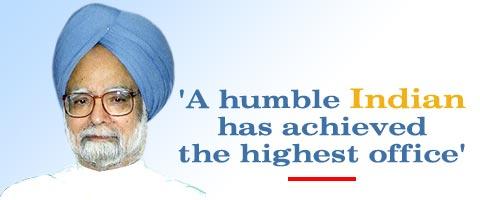 I had the honour of meeting Dr Manmohan Singh when HDFC Bank was inaugurated in Mumbai on February 17, 1995. Considering he was the architect of the financial reforms, it was an appropriate choice.
Dr Singh also launched the first ATM for the bank that morning, moving the Indian banking industry into a new direction.
Later, he toured the bank's facilities and its IT operations and data centre, which is where I worked. He shook hands with all members of our team. It was a great day for us.
My father J R Prabhu, who retired as executive director of the Reserve Bank of India, had the opportunity to serve under Dr Singh during his tenure as governor. He also worked with Dr Singh for IMF loan sanctions in the nineties.
My father is very proud that a humble Indian has achieved the highest office.
I hope the coalition parties understand Dr Singh will want nothing but the best for the people of India and let him rule for the full term of five years.
Nagaraj Prabhu
Schering-Plough HealthCare Products Inc
Berkeley Heights, New Jersey
Do for your country
I have met Dr Manmohan Singh on two occasions.
My PhD thesis advisor and former IGIDR (Indira Gandhi Institute for Development Research) vice-chancellor, Professor Kirit Parikh, initially introduced us during my convocation ceremony.
The second time, I escorted him from Mumbai airport to IGIDR for a function in honour of Professor Parikh.
Having grown up admiring Dr Singh -- many of us took pride in being students of economics because of him -- I was really excited at the thought of actually talking to him.
I asked him the usual profession-oriented question: what career should a PhD in economics pursue?
He began by saying how important it was to give something back to the country that funded your education.
We were stuck in a traffic jam around the Andheri flyover (in northwest Mumbai), which was then being built. He looked around and told me how nothing had changed for the poor in the last four or five decades. He said it was the duty of every educated Indian to contribute in his own way to help them.
I realised I was not just talking to a successful and honest bureaucrat; here was a leader who had genuine social concerns. The thought came to my mind: if there is justice, this man should one day lead the nation.
I am glad that Dr Singh is our prime minister.
People say he lacks the 'political' shrewdness that is necessary for someone to success in this field. These people should remember the Vedic hymn -- Kriyah sidhi satve bhavati mahatannopakaraneh (If your goal is noble and the effort intense, you will find the means).
A noble man is leading India into its next stage of development. All of us, whatever our political beliefs, should give him our wholehearted support.
Gangadhar Darbha
Visiting scholar
Wharton School of Finance
University of Pennsylvania.

A memorable speech
I did my MD in paediatrics from CMC (Christian Medical College) Ludhiana in 1982 and received my degree from Dr Manmohan Singh, who was the chief guest at Panjab University's convocation ceremony in 1983.
I still remember the occasion and his speech to the young crowd in the hall.
I feel proud to have him as our prime minister. I have no doubt we will shine under his leadership.
Dr Atanu Kumar Jana
Professor of paediatrics
Christian Medical College, Vellore

Quick response
My earlier posting in a rural area enabled me to develop an insight into what ails our politico-socio-economic system. I consider trying to solve social problems a natural extension of a physician's work.
In this context, I had sent two letters to Dr Manmohan Singh -- one in 1998 and the other in 2003 -- dwelling on the merits of a party-less democracy. Both were acknowledged.
Such is the simplicity and open-mindedness of this great man.
P Vijayaraghavan
Assistant professor of medicine
Madras Medical College

HAVE YOU READ?
Dr Singh's track record
A class act
'Dr Singh is too good for today's corrupt world'
A thorough gentleman
Saving the taxpayer's money
Dr Singh's autograph
'I have to give something back to society'
Dr Singh: Upright and conservative
Have you met Dr Manmohan Singh? Share your experience with us until Wednesday, June 2. We regret we will not accept contributions to this section after June 2.
Photograph: RAVEENDRAN/AFP/Getty Images