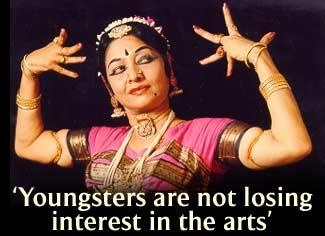 Danseuse Yamini Krishnamurthy begs to differ with those who feel India's youth are less motivated to master classical Indian arts and are moving towards Western popular culture which is 'easier.'
"Please, don't tell me this. Some 200 children in Delhi alone came to my dance school. Why are they also going to other artistes to learn the arts?" asks the Bharata Natyam and Kuchipudi exponent, who plans a comeback to the arangu (stage) this year.
Unlike many of her contemporaries, Krishnamurthy dismisses the argument that the major stumbling block is the time required for mastering these art forms.
"It is ridiculous to say the time factor and hard work required are acting as a deterrent. I won't say more and more people are coming. But don't say youngsters are losing interest," she says and points out she has taught hundreds of students in the last two to three years.
The renowned dancer also refuses to accept that Western arts are dwarfing Indian classical arts. She categorically asks people to stop thinking "such nonsense."
Krishnamurthy, who had taken a sabbatical from her "passion" to attend to her "commitments", will be seen on stage in August or September this year. In her new "garland-like composition", she will "try to interpret" the Indian poets' understanding of Goddess Kali.
"Our poets dealt with Kali in different ways. Rabindranath Tagore's understanding was different from Kalidasa's as was Subramanya Bharati's," says the dancer, who had her arangetram (debut performance) in 1957.
"The choreography for my new show is almost complete. Now, the music is being composed. We are going to use a different kind of music," she says.
The dancer, who had been honoured with the Padma Shri in 1968 at the age of 28, says she was doing multiple things all these years which stifled the "creativity" in her.
"For many years, I have been a bit out of touch with the creative and performance aspects of dance. I gave all my energy to setting up my dance school in Delhi and teaching dance. Now, I want to return to the stage."
When asked why she abandoned the stage for so long, Krishnamurthy says she cannot have "two focal points. I cannot concentrate on performance and teaching at the same time. I have certain commitments to my students and I cannot leave them in the lurch, so I decided to be with them."
Krishnamurthy, who is the 'Asthana Narthaki' of the Tirumala Tirupathi Devasthanam, feels dance is a personal experience and it is the duty of the teacher to help her student experience it.
"I concentrated on grooming the Yaminis of the future. I don't make any stars but I make as many dancers as possible. I believe every household should have a dancer," she says.
The dancer, who won the Sangeet Natak Akademi award way back in 1977, began learning dance at the age of five.
Rukmuni Arundale gave her first lessons in Bharatanatyam at the Kalakshetra School of Dance, Chennai. Then, she learnt the art from Kanchipuram Ellappa Pillai, Thanjavoor Kittappa Pillai, Dhandayudhapani Pillai and Mylapore Gouri Amma.
"I was lucky to learn two schools of Bharata Natyam -- Pandanallur, which sticks to the classical text and Kanchipuram, which is liberal," she says.
The dancer, who mastered Odissi under Guru Kelucharan Mahapatra and Guru Pankaj Charan Das, says she owes her success to her father M Krishnamurthy, who was a Sanskrit scholar.
Her grandfather was an Urdu poet and she was the first in the family to take up dance. "My father totally supported my pursuit and showed me the right direction."
She also learnt Carnatic vocal from M D Ramanathan and the veena from Kalpakam Swaminathan.
The danseuse, who knew from her childhood that she was moving towards a "fixed destiny," says, "dance wrested control of my life and I meekly surrendered to its power.
"I owe everything to my gurus. Whatever I have it is theirs. My mentors had insight and they trained me with affection," she says gratefully.
Photograph: Avinash Pasricha
Image: Uday Kuckian