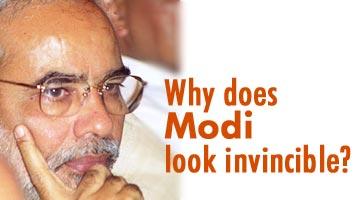 Senior Editor Sheela Bhatt examines the rise and rise of Gujarat Chief Minister Narendra Modi in a two-part special series.
Narendra Modi thinks a detergent named development will wash away the memory of 2002. In his speeches in the last year, he says, 'Gujarat is the growth engine of India that is why the Planning Commission, while fixing the growth target for the current Five Year plan, has given Gujarat a target of 10.2 per cent against the country's target of 8 per cent. Gujarat has surpassed even this and has registered 15 per cent growth.'
Modi wants to compete with Asian economies, not just with other Indian states. He has been spectacularly successful in bridging the revenue deficit of Rs 4,000 crore. Gujarat has impressive figures to show because of its contribution to exports (21 per cent), industrial output (20 per cent), market capitalisation (30 per cent) of the country.
Modi or no Modi, Gujarat is unmatched in India in chemicals, petrochemicals, pharmaceuticals, textiles, plastic goods, salt, ceramics, diamond processing and milk products. And hold your breath! To appeal to a larger section, Zaheera Sheikh will become 'the Muslim face of Modi's BJP.' If and when necessary she will be inducted into the BJP and will be given a ticket to fight an election. Surely, the Hindus of Baroda will vote for her, says Mohammad Vora, a social worker.
But what about new investment? Is it coming?
Modi is seriously trying to take the state economy in a higher gear. He has dreams of making Gujarat a gas-based economy. Gas is economical, efficient and environment friendly.
He has already started his efforts, if he shows some concrete results within 5 to 7 years, Gujarat will be enviable and may be unbeatable in infrastructure and industrial development. Modi wants to supply gas-based electricity instead of coal that will make Gujarat attractive for industrialists.
One hundred and twenty million tonnes of new reserves of fuel were discovered in the state. Gujarat has two LNG terminals, in Dahej and Hazira, to handle imported gas. It already has 500 kms of gas pipeline connecting its big cities. A 1,500 km laying of pipeline has awarded to the Adani group. The state has got e-governance in place. Its labour laws are not strictly implemented.
The rest of India is still talking about it, while Gujarat has already linked its rivers. It is heartening to see the Sabarmati river that passes through Ahmedabad carrying the waters of the Narmada. In the last six years, more than 200,000 check dams and farm ponds have been created to preserve water.
A comprehensive soil survey has been carried out for the first time in India. Farmers are being given a soil health card that helps them to understand the suitability of the land for a particular crop. Even though, Gujarat is not on the map of India's IT sector, it boasts of the State Wide Area Network (GSWAN) -- the second largest in the world and largest such network in Asia.
Modi exploits this connectivity to reach out to the nooks and corners of 18,000 villages. All 25 districts and its talukas are connected live to the state headquarters. The state has set up SWAGAT (State-wide Attention on Grievances by Application of Technology) which is one of its kind.
If investments are not coming it is not because of the communal situation in Gujarat. Foremost, Gujarat does not have the lifestyle of Bangalore or Mumbai. The state's prohibition policy is a psychological barrier to attract highly talented young professionals.
Gujarat has entered an advanced stage of development, so freebies available to industrialists are much less say compared to West Bengal, Orissa, Goa or Kerala.
Will he win the game in the end?
It is difficult to forecast at this stage. He can control corruption just marginally. He can provide water, but not cheaply, which will not go down well with farmers. As it is, farmers are the only class in the state which has been expressing their displeasure against Modi. He can make gas supply available but can't control its price that will affect his voters. He can build highways but not lanes and by-lanes which are in a mess. He doesn't have money to plan and implement largescale stable employment schemes. Seen as the hero of the middle class, Modi hasn't been able to make any headway as the saviour of the poor.
Eventually, all the negatives of privatisation and reforms will put Modi in his place, believe his opponents. Nevertheless, he is trying hard to achieve Ram Rajya, the way the BJP envisages. The unwritten message is that 'the Muslims will have to be kept in control.'
To win the game Modi has entered the fast lane of development, liberalisation and globalisation. Also, whatever he does he hypes it much more. When he talked about gas-based terminals and building a distribution and supply system within Gujarat, he said the state will become another Saudi Arabia!
The hype about his achievements will create a gap between him and his administration on one side and the have-nots of the state on the other side. Since the Congress is unable to exploit the underprivileged class in Gujarat, Modi's political risk factors in implementing liberalisation are a little less.
He himself admitted at a Confederation of Indian Industry function recently that 'those taking the path of economic reforms risked brickbats.' He said, 'Everybody talks about economic reforms. But nobody comes forward to support them. Gujarat is leading in the energy sector reforms. Prime Minister Manmohan Singh praised my efforts when I met him but his own party (the Congress) is staging protests against my reforms.'
Modi is on the way to revolutionising sectors like electricity management and water management. His government will announce a scheme soon under which whistleblowers will receive 10 per cent of the fine amount on reporting power theft. Lakhs of farmers and small-scale industrialists who thrived on 'stolen' electricity are now upset.
Similarly, within his party, many MLAs and fixers had been involved in corruption but Modi is blocking their way. Rather, they are humiliated by him. They will bounce back when Modi will be on a weak wicket. He has attacked the politician-bureaucrat nexus. But as a result the bureaucrats are having a field day. Modi's party members claim that bureaucrats have sided with Modi and as a result they have more opportunity for corruption and are unchecked by any democratic body.
As one state minister puts it -- "Now black money is not even in circulation. Bureaucrats are hoarding it. We were at least spending it on our political activity." A day will come when contradictions will emerge out of the complexity of the current situation. Modi's loyalists will have to say that development is above Hindutva. At that point, Modi watchers believe, he will lose his USP. How can any state have all-round prosperity without the meeting of minds of the minority and majority communities?
Why does Modi look invincible?
There are many reasons:
Because senior BJP leaders in Delhi are ageing and weakening. The BJP's second rank of leaders at the national level is full of individuals who are not in a position to win their own seats in an election. The BJP's meeting in Jharkhand recently showed that senior leaders acknowledge that Modi is their sole success story and is still popular amongst voters who elected him in 2002.
Second, his opponents in the state are in disarray. In Gujarat, the Congress doesn't have a single leader to match Modi's charisma and his crafty handling of the state assembly. Congress veterans like Krishnakant Vakharia are talking about the concept of 'collective leadership' in Gujarat because in the absence of a single leader a one-on-one fight with Modi seems unlikely.
Modi is sitting pretty, also because the media has fallen into a trap. After the 2002 riots, the media positioned Modi in such a manner that now an attack on him is conceived as an attack on Hindutva by BJP voters. That forces the RSS to give him protection. How can Modi's survival be as serious an issue as 'aggressive Hindutva' for any activist who is fighting communal politics and secular values?

His ministers say Modi can smell trouble well in advance. That gives him an advantage of planning to outsmart his rival camps. At the ground level, Modi is positioning himself as if he is a victim of the 'pseudo-secularist'' movement outside Gujarat.
One state cabinet minister asked mischievously: "Why are secular activists like Teesta Setalvad not as good in understanding the Hindu mind as they understand the Muslim mind?"
Modi is clearly positioning himself to encash these sentiments. The politics of the riot cases is his battleground. Ask any BJP leader and he will tell you that the Congress is behind the 'anti-Gujarat' campaign outside Gujarat. Re-investigations of some 2,000 cases will upset Hindus and will also harm the BJP's political interest but at the same time his party will claim that the Manmohan Singh government's 'anti-Hindu' political stance has worsened the situation and Modi is helpless.
Railway Minister Laloo Prasad Yadav has instituted a departmental inquiry into the Godhra carnage but at ground zero, BJP activists claim it is a 'anti-Hindu' inquiry. If the railways departmental inquiry concludes the burning of the Sabarmati Express was an accident, Modi will activate the Vishwa Hindu Parishad to launch an aggressive campaign.
Within Gujarat, the issue of who burnt the Sabarmati train is a highly sensitive and political one. Most secularists, Muslims and Congressmen believe the Sabarmati train was burnt only after VHP members humiliated Muslim tea vendors and teased a Muslim girl. BJP supporters believe the police investigation -- that it was a pre-planned attack by Muslim from the Ghanchi community belonging to the Tablighi Jamat living in nearby Signal Falia.
A BJP officebearer thinks "the battle is between Chief Minister Modi and his face of Hindutva."
Photograph: Ranjan Basu/Saab Press | Design: Uday Kuckian