I would like to meet Bachubhai whose son was killed in Kashmir," I request the elderly lady facing me.
I am at the door of a modest two-room dwelling in Damarwali chawl, located in the Shahpur area of Ahmedabad, the old part of the city.
She looks me over before letting me in and offering me a chair. "He is not in," she says, "He will come soon. I am his wife. Tell me what do you want?"
I tell her I have information from the state home ministry about a Gujarati boy named Ayub Bachubhai who had become a jihadi. I was told he was killed in Jammu and Kashmir and that the Intelligence Bureau had identified his dead body before he was buried somewhere in Jammu and Kashmir along the border.
I was also told that Ayub's family has received a letter from the Lashkar-e-Tayiba, the Pakistan-based terrorist organisation, informing them about his death. [The letters are in Urdu and one in Gujarati]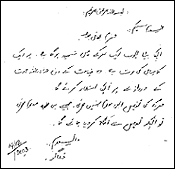 The lady is Nyanat, Ayub's mother. A big-built lady with sharp features and a commanding presence, she is a Rajasthani Muslim who has settled down in Ahmedabad. Her husband Bachubhai was born in Ahmedabad. She has eight daughters, including one who was adopted recently, and two sons, of whom the elder was Ayub. Inside the house are her younger son Salim and two adult daughters, sewing school uniforms. They are trained tailors, their mother tells me.
The adjoining room has a well-set kitchen. Though living in a chawl, the kitchen appears well stocked with a refrigerator and other kitchen accessories.
Before I can ask any question she tells me in Marwari-accented Hindi that her son Ayub is alive. But she adds that the family has no clue about Ayub ever since he left home in August 2002. The sisters tell me they have full faith in Allah that he is fine.
Nyanat starts sobbing when I ask her about her son. Over the next three hours, amid much sobbing, she narrates her tale of woe:
"MY son is a friendly person. My husband is a retired building contractor who built this chawl with about 80 rooms. My family and my husband's brother have four, five rooms. The rest are rented out at very low rates to Dalits. Except for our four families, all our neighbours are Hindus. In 2002, when riots broke out after Godhra, my husband and I were in our native village in Rajasthan but my children were here. In our chawl, we are respected by our Hindu neighbours and we never had any communal trouble. We are all peace loving.
"My son has few Muslim friends. He has mostly Hindus friends from Meghani Nagar where he was working. When riots went on for a long time, our neighbours advised my children to shift to a safer area. My son Ayub rented a room in the municipal quarters at Mahendikua, a Muslim-majority area. The room belong to Yusuf Khan, who has a brother, also named Ayub.
"Ayub Khan ran a garage while my son Ayub worked in a lawyer's office. We don't know what happened between them but one day, when my daughters were sewing in the morning and Ayub was getting ready to go to his office, Ayub Khan came looking for my son. It was around 11 am on a weekday in August 2002. Ayub Khan told my son to pack his bags to go to Kashmir. Earlier too, Khan had come twice to our house, inquiring about my son.
"At this time, we were still in Rajasthan. My son told his sister Naseem that he was going to Kashmir with Ayub Khan for six to seven weeks on an assignment. He said he would get Rs 5,000. Since the riots had affected our finances severely, he accepted the assignment.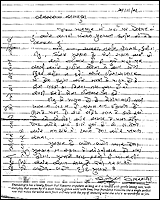 "After some time, I came back from Rajasthan. When Ayub didn't return in seven weeks, we started worrying. My younger son kept going to Ayub Khan who kept saying he would return soon. We were petrified of our son becoming a jihadi. He was just not that type. Khan told my other son Salim that Ayub is fine and there is no reason to worry. He was told he has gone to deliver bananas and would come back with truck full of apples.
"When we mounted heavy pressure on him, he said Ayub has sent some money and he gave Salim Rs 4,000 and a letter returned by him.
"We went to the rented place where Ayub and Yusuf live. Yusuf's wife Sabiya took us to Ayub's father-in-law, Abdul Latif Kashmiri alias Kashmiri Lala, who lives in Vatva [a suburb of Ahmedabad]. I told him to get my son back from Kashmir.
"Initially, he said he was unaware of my son's whereabouts but later agreed to bring him back on his next trip to Poonch in Kashmir. Lala is a native of Kashmir. His first wife and family live in Poonch [in Jammu]. He is also married to a lady in Ahmedabad and settled here.
"I curse him and his jamai (son-in-law, viz Ayub Khan) every day. They have snatched away my son for money. They have sold him for Rs 1 lakh to the militants," she alleges.
"It is a trying time for us. I have eight daughters. My husband is 65 years old. We are not getting suitable boys for my daughters in our community. We never marry our daughters into other Muslim communities. I have no idea what will happen to my family.
Also Read: How Gujarat plans to counter terrorists

"SABIYA (Yusuf Khan's wife) told us that her cousin (her maternal uncle's son), Assadullah Kalyani, was also sent to Kashmir by Ayub Khan. At that time, Ayub Khan did not know that Kalyani was Sabiya's cousin.
"Kalyani, who lives in the Khanpur locality in Ahmedabad, escaped from the militants and returned home. He was probably trained in the use of arms and was kept with my son Ayub in the Kashmir jungles. But after three months, they were separated. He told us they were always kept on the mountains peaks and were never allowed to come down the hills.
"Kalyani told us when my Ayub heard on the radio about the attack on the Akshardham temple (on September 24, 2002) he came down from the hills. He wanted to go home but he was not allowed. Kalyani told us he was worried about his sisters.
"It was after Kalyani revealed his story to the Gujarat police that Ayub Khan and Kashmiri Lala were arrested under the Prevention of Terrorist Activities Act. It was only then that we came to know of their plans to lure Muslim boys from Gujarat to Kashmir.
"Kalyani told us that five Gujarati Muslim boys accompanied him to Kashmir. They too had been recruited by Ayub Khan and Lala, both of who came to see them off at the railway station. All the boys were told they would be employed in the transport business.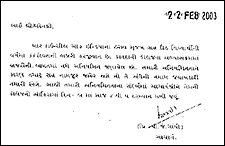 "We are not aware about what all happened in Kashmir but we know for sure that Kalyani and Guddo Ansari, who is also from Ahmedabad, went to Kashmir with my son. But they have returned. They were arrested by the police and kept in jail for two or three months. They were treated well. They have told everything to the police and have been released. They are happily settled again, leading a normal life.
"Unlike these two Gujaratis, my son could not escape the militants because they claim he was sent to Pakistan-occupied Kashmir. I kept visiting Lala. He would only keep saying that after the snow melts, he would get back my son from Kashmir. After Kashmiri Lala's arrest, I kept meeting his wife Shamshad and her daughter Mehjabin. I would cry and plead, 'Mera chokra la kar de' (Bring back my son).
"In our community and in my neighbourhood I haven't hid the fact that my son is missing. Our neighbours understand our pain. But don't take my pictures. In the next riots, we may be targeted. Outsiders can identify us and target us because they would say 'Iska chokra Kashmir bhag gaya' (Her son ran away to Kashmir).
"Kalyani, who has escaped the militants' clutches, knows everything. At one point, Shamshad promised me she would go to Kashmir and get my son back. She went to Kashmir but returned without my son. They entertained us for some time but three months back she refused to heed my pleas.
"A few months ago, I received a mail from Oman. The address was Post Box 1630, Jabro Matrah, Sultanate of Oman. The short mail said, 'Mera beta shahid ho gaya hai' (My son has become a martyr).
"We cried and cried, but we don't believe this mail. We called up the police and told them about it. They asked us some questions.
"I have visited many astrologers and even religious figures from the Dalit community. All of them have assured me that my son is alive and will come back. He can't become a jihadi.
"The Gujarat police only harass jihadis or Muslims who are against our society. They have released Kalyani and Guddo. We are sure that my son will not be harassed if he tells the truth to the police. Many people have insisted I should do fatia (the final rites) of Ayub, but I have said a firm no. Ma ka dil kaheta hai voh jinda hai! (A mother's heart says he is alive!)."
LATER, to convince me about Kashmiri Lala's involvement in sending her son to Kashmir, Nyanat takes me to Sabiya's home. Sabiya confirms she had taken Nyanat to Kashmiri Lala. She also confirms that her cousin Kalyani has returned to Gujarat from Kashmir.
Kalyani's parents refuse to allow him to talk to me while Guddo Ansari is not available when I visit his home. His family also confirms he has returned from Kashmir.
Image: Uday Kuckian
More reports from Gujarat
The Gujarat riots