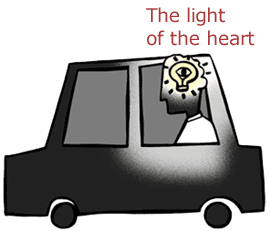 As the North American Blackout of 2003 enveloped the world, as we know it, into total darkness, a different kind of light was generated in human hearts. It glowed through in countless acts of mercy and compassion and once again proved the sacred truth that we are part of the Vasudaiva Kutumbakam (The world as one family).
On that fateful sultry, humid Thursday evening, when everything that ran on supplied power went dead, New Yorkers (and of course, others in other affected towns and cities also) took on a 'Love thy neighbor as thyself' mode and helped each other in every way possible - be it getting out those stuck in elevators and subway cars, directing overground traffic that was crawling sans signal controls, giving water to tired citizens who walked mile after mile to reach their destination...
It helped me reach home that night.
I was working. As the power went out, my immediate concern was my family. The phone was not working. I figured where each member of my family could be. After making sure that everything was fine with them through collect calls from a pay phone, I went to Penn Station hoping to make the trip home on the Long Island Rail Road.
As the station was closed, I thought I could spend the night at office. I walked back to the office, about 12 blocks, only to find that it was also closed.
Then it dawned on me that I was stranded, as was the case with hundreds of thousands on the jam-packed streets of Manhattan. I got ready for a night on the street, and bought some water and food for supper from a shop that looked eerie without lights.
I found a group of friends and colleagues waiting for a car from Brooklyn to pick up one of them. Though their number exceeded the capacity of the car, they offered me a ride. One colleague offered me the night's stay at his home in Jackson Heights, Queens.
Around 4.45 pm, we all hopped in the car, an old and small one without air conditioning and radio. Somehow all were accommodated, half sitting, half standing, or almost standing, in the car with its glasses rolled down for air.
Our predicament was a subject of interest to people walking along the route and heading home. They were pointing at us and laughing.
It didn't help that the young, energetic owner of the car informed us at the outset he hadn't used the car in over a year; thanks to the loss of power, he said, he couldn't get the garage open to take out his good car. Our togetherness comforted us from the concerns this raised, about the possibility of the car stalling on the way.
We headed towards the Williamsburg bridge to get out of town, about two miles from where we started. After a few blocks we realized New York City -- cars, buses and people on foot -- was heading towards the bridge. It was stop and go for another two hours, and a lesson in patience, until we reached the bridge.
As the streets became a slow-moving parking lot, half of us would get out and walk a couple of blocks, so that others could sit comfortably at least for some time; we would then get in while the other half walked.
Along the way, we saw people walking in groups and talking to each other, probably building up each other's confidence that they would reach home safe.There were people offering water to tired pedestrians, and citizens and policemen controlling traffic.
As we entered the bridge, the car picked up speed. In half an hour we reached Jack-son Heights, home for half the occupants. As I yearned to reach home, I did not take up my colleague's offer to stay at his home.
Even after being in the car for nearly four hours and after all the hassle, the youth and his dad offered to take me home. Another friend, who commutes by subway, had his car parked in Jamaica. So they dropped us in Jamaica. From there, we went home in my other friend's car, even though that meant he had to drive away from his normal route.
I reached home around 10.30 pm.
Had it not been for the concern and help of my friends, I would have been sleeping on the sidewalk somewhere in Manhattan, and counting the stars, as did thousands of New Yorkers who could not get out of the city.
At my home, the caller ID recorded 59 calls, inquiring about my whereabouts.
I am sure thousands of New Yorkers had similar experiences, which only shows we are not alone and we cannot live alone. We are part of one family, one society, one nation; we need each other and are inextricably bonded together.
But, alas, this experience will soon be forgotten! The truth will be forgotten and the light of the heart will be forcefully put out.
In such unusual days of darkness and tragedy, our inner eye opens up and sees everyone as one. When daylight breaks, we look with our outer eyes and see each other's color, race, religion and the like, and then slowly 'I' begins to replace 'We', and all hell breaks loose.
So I pray, Thamasso ma Jyotir Gamaya - make our inner eye overwhelm the outer eye, so that we discern that Love, the true color of humanity, is the ultimate means to achieve Vasudaiva Kutumbakam.
Illustration: Uttam Ghosh