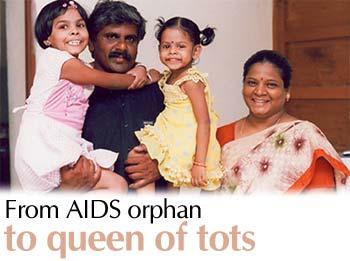 Eight-year-old Mary emerged from the kitchen holding a small plate of Maggi Noodles. She kept the plate on the floor and called out, "Harini, your noodles are ready. Come fast." Harini, all of two-and-a-half years old, slowly sat down in front of the plate.
Mary went back into the kitchen to fetch her own plate. Harini waited for her elder sister to settle down. "Ready, now you start," Mary ordered, and both started eating.
Whenever Harini spilled the noodles, Mary would pick them up and help her eat properly. She got up only after her sibling had finished. Finally, Mary picked up Harini's plate also to take back to their grandmother.
Mary is now a responsible and caring elder sister. But the smiling Mary was a totally different girl some seven years back.
When she was brought to hospital from an orphanage as a one-and-a-half-year-old, she cried non-stop, threw tantrums, and banged her head on the floor. It was pathetic to see such a small baby rocking and crying with no one to take her in her arms and hug her. Her mother, an AIDS patient, had died, leaving her to face the world all alone. Then the orphanage also abandoned her. When tests showed that Mary was HIV-positive, they refused to take her back. Once again, she was left all alone in a hospital where she didn't know a soul.
Mary continued to cry, bang her head, and rock herself.
She was then brought to Dr Manorama's CHES Ashram for AIDS orphans. Muthupandian and his wife Chitra, who had been lending a helping hand to Dr Manorama, took pity on the baby who cried and rocked herself all the time. They held the child close and sang lullabies till she stopped crying. In no time, the child stopped her tantrums and started sleeping peacefully. But she wanted them to hold her close all the time; she didn't want them to be away even for a second.
Mary smiled only when the couple held her. She ate only when they fed her. She walked only when they gave her their fingers. "As days went by, we felt so close to her," Muthupandian said, "like she was our own baby. As you know, it can happen to anyone who loves a child so dearly. She too was desperately in need of physical contact and love. We were able to give her both. It was just impossible for us to leave her at the ashram and go back home in the evening."
Chitra felt the same way. "More than her needing our love, we felt we needed her," she said. "Not once have we looked at her as an HIV-positive child. She has always been Mary, our child."
Then came the day they realised they could not live without her. "What should we have done? We felt there was no other solution but to adopt her as our own."
But Dr Manorama was against the idea. She asked how they could adopt one child from the ashram when there were so many AIDS orphans there. What would the other children feel?
"We knew it wouldn't be fair on the other children in the ashram," said Muthupandian, "but we couldn't do anything. We had become so attached to Mary that we could not think of a life without her. We somehow convinced Dr Manorama. It was no problem convincing my mother and the niece who stayed with us."
Officially, from that day on, Mary, the two-year-old HIV-positive child, became their first daughter!
Muthupandian is now well known in Chennai as the lieutenant of Dr Manorama. But he is not trained in social work, let alone dealing with AIDS orphans. He was only a photographer who had accompanied a journalist from Malaysia, who was doing a story on the pioneering work done by Dr Manorama in taking care of AIDS orphans.
"I was so impressed with the kind of work she was doing that I could look at her only in awe," Muthupandian recalled. "That was the time nobody even thought of these orphans, let alone talked about them. I saw her fight society and family to adopt Krishnaveni and Ravi, two AIDS orphans who had no place in the world to go. Her dedication became such an inspiration to me that I decided to join her and help her."
When he decided to marry, the only condition he had was that his wife should accept and understand the kind of work he was involved with.
Chitra had great difficulty coming to terms with the fact that her husband worked with AIDS patients. "It was very, very hard," she admitted. "I didn't know the difference between AIDS and HIV then. It took me a whole year to accept the fact. One day, he asked me to come and see the children at the ashram. That changed my attitude. Once I started mingling with the children afflicted with the virus, I changed. I feel anyone with a conscience will change when s/he sees these unfortunate little ones."
After her very first visit to the ashram, Chitra decided to join. From then on, she took charge of caring for all the children in the ashram. She became Chitra Aunty to them.
"I felt so happy when she told me about her decision to join us. I felt really fortunate," said Muthupandian. "I am known to the outside world because I go out and talk about our work. But it is people like my wife and the young nurses who do the real work."
Then Mary entered their lives. Mary doesn't remember her biological parents; she believes Muthupandian and Chitra are her parents. Many relatives who do not know Mary's background wonder how the child came to have a Christian first name. "We tell them the name of the doctor who did the caesarian section was Mary. So we decided to name her Mary!" Muthupandian laughed.
Two-and-a-half years ago, Harini was born.
Muthupandian and Chitra let their own daughter play with the HIV-positive children at the ashram all the time. "Many journalists who saw Harini playing with these kids asked me, 'Are you not scared about your child?' I tell them that my own Mary is positive. She has bitten me seven times, but nothing has happened. I have been working with these kids and HIV-positive adults for the last 10 years. I still haven't got infected. I never had and I will never have the fear that the HIV virus will infect me because I have physical proximity with these children. The same thing applies to Harini."
Like all parents, they have dreams for Mary. Though Krishnaveni's death shattered them all, they continue to have high hopes of medical science. "Medicine is advancing so well, and ART is easily available now," Muthupandian said. "We are confident that she will live long enough to grow up to be a beautiful girl and get married like all other kids. We are hopeful. Even healthy children can die any time. Similarly, my Mary can live longer."
He has a message. "I want to tell everyone, please don't be scared of HIV-positive people; you will not get the disease by just being close to them."
Muthupandian believes seminars on AIDS should not be conducted in five-star hotels. "They should be held in places like our ashram where people like us live with HIV-positive people," he said. "This is the only way we can make people aware that the disease is not as deadly as they think. By just distributing pamphlets, we will never be able to educate people on AIDS. No amount of talking will help. Only if they are allowed to mingle will attitudes change. Then many, many more people will come forward to adopt these kids... because people are basically humane and compassionate."
Photograph: Sreeram Selvaraj | Headline Image: Uttam Ghosh
For additional information, readers may contact: CHES ASHRAM, 102A, Rangarajapuram Main Road, Kodambakkom, Chennai 600 024. Tel: (91)(44) 2472-6655. Email: ches_cheschennai@yahoo.co.in, pmanorama@yahoo.com