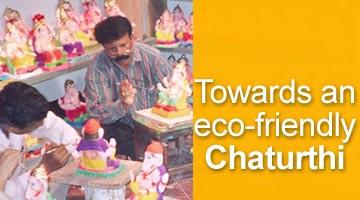 This year Ganesh Chaturthi will be a little less polluting.
A Mumbai-based non-governmental organisation, the Sadguru Shree Aniruddha Upasana Trust, headed by Dr Aniruddha Joshi aka Bapu, has taken up the task of spreading awareness about environment-friendly Ganesh idols.
"One-and-a-half months back we decided to encourage people to make Ganesh idols using paper pulp, which will reduce pollution and won't harm fish," said Sandhyaveera Jaykar, a member of the trust.
Earlier, Jaykar said, idols were made of clay, which is not easily available and is heavy. So artists started using plaster of paris, which is cheaper and lighter, and chemicals. But these cause pollution.
Ganesh Chaturthi: The Complete Coverage
The organisation collects waste paper, shreds it, and turns it into pulp, which is then rinsed, dried, and again put into a mixer to get fine powder. The powder is then mixed with water to be made into papier mache. Around 20 per cent clay and starch is added to the material so that it binds well.
Except for the golden colour used for the crown and other ornaments, the colours used are natural, mostly vegetable dyes.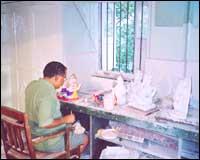 "Golden colour makes the idols attractive," Jaykar said. "We are trying to find out how to make eco-friendly golden colour."
Idols prepared in this fashion dissolve in water within a few hours. "We got a very good response from people, who called us from various places to congratulate us for our efforts," she said. "We also received idol orders from them."
This year the trust made idols in three sizes — 6, 9, and 13 inches high, costing Rs 75, Rs 150, and Rs 175, respectively. They received orders for 235 idols from Mumbai and 35 from Pune.
"Making Ganesh idols using paper pulp is easy and anyone can come to learn it from us," said Chetan Dabholkar, another member of the trust. "We do not charge any fee."
Also See: The Ganesha Collector
The trust has also approached professional idol-makers to teach them how to make the eco-friendly idols. "We taught an idol-maker from Pen, where a lot of idols are made," said Dabholkar. "He has agreed to promote the use of paper pulp in idol-making."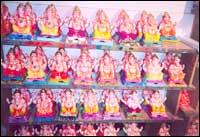 The trust's job doesn't end with making idols, though. There is also a post-immersion plan in place, where devotees visit various seafronts a day after the immersion and collect all the idols that have floated back. These idols are then re-immersed.
Also, the floral offerings, which are not allowed to be thrown into sea, lie scattered on the beaches. These are also picked up and taken away for vermiculture.
Photographs: Vijay Singh | Headline Image: Rahil Shaikh