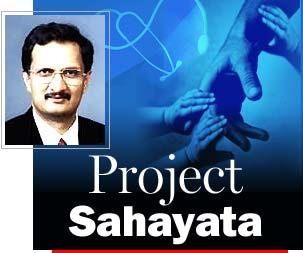 Doctor kabh aayenge? Subah se kuch khaaya-piya nahin. Chakkar aa raha hai [When will the doctor come? I haven't eaten anything since morning. I'm feeling giddy]."
The frail woman in the faded lavender salwar kameez has been waiting for over an hour. She hails from Dibrugarh, Assam. Of the many things she has on her mind, she is most concerned about her son's matriculation examinations.
In a reed-thin voice, she explains, "My son studies only when I am there. His final examinations are in March. I have to return home today. I came so that the doctor could see me."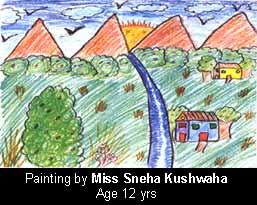 She is suffering from cancer. What she is really looking for, more than treatment, is peace of mind. Which she will find only when she meets Dr Palepu Jagannath, chairman, department of surgical oncology, Lilavati Hospital, Mumbai.
When he breezes into his consultation room, words pour out in a torrent about her son's exams. About how she has left him alone. How she has to rush back. How she is in pain. How she is happy she has come to see the doctor.
There is so much hope in her words.
"All it really takes," explains Dr Jagannath, "is awareness. Most cancers are curable if detected early. But most people don't heed the subtle warning signs our bodies send us because they don't know. Believe me, in most cases, the body does send warning signals." 
| | |
| --- | --- |
| | Indiacancer.org |
| | |



Dr Jagannath launched the vertical portal, indiacancer.org in June 2000. Powered generously' by Intelvision and inaugurated by Andhra Pradesh Chief Minister N Chandrababu Naidu, the non-profit organisation went on to include the Crusade Against Cancer Foundation, which was inaugurated by Amitabh Bachchan in July 2001.

The web site contains information about cancer, how you can detect it, myths about cancer, treatment and care if you have the disease, cancer treatment for children and the medicines available. It also helps you search for specialists (the web site has 300 doctors on board) and cancer treatment centres. You can also volunteer for the Crusade Against Cancer by investing your time and/or your money.

Dr Jagannath's next target is to make the web site multilingual.

He also plans offline initiatives to create awareness and dispense care in several 'low awareness centres.' Through the Asian Institute of Oncology, of which he is a member, he plans to set up cancer centres in areas like Patna, Guwahati ("The northeast has little to zero knowledge," he says), Ludhiana, Kolhapur and other parts of interior Maharashtra. He also plans to liase with existing centres in these areas and help equip them with the infrastructure they need to upgrade their set-up.
The problem, he says, is lack of awareness. The cure is early detection. That is why his aim is to spread awareness about the warning signs of the disease.
Dr Jagannath's passion for providing information was sparked when he lost his mother to ovarian cancer. "She was a gynaecologist. Yet, at that time, she didn't have the information that is available now so that you can take steps to prevent it."
Fifteen years later, Dr Jagannath has wised up to the changing times and the power of technology. What better way to spread information, he asks, than over the Internet? "My daughter does all her school projects thanks to the Net. It is a phenomenal source of information." The result was his portal, indiacancer.org (see box).
Recently, he launched another cherished dream, Project Sahayata, on the indiacancer.org web site. This project aims at linking donors and cancer patients (see box below).
Treatment for cancer is expensive and many patients cannot even dream of covering the costs. Often, Dr Jagannath foregoes his consultation fees; at times, he even waives his surgical fees. "But there are still the cost of the drugs and the hospital overheads to be considered. That is when the donors come into the picture," he says.
"What I have realised over the years is that the ordinary man -- more than corporates and financial institutions -- wants to help. He may not be able to afford much, but that is not the issue. He doesn't want to donate to an organisation; he wants to donate to people. He may be able to put in only Rs 2,000. Another person puts in Rs 5,000. Soon, there is enough money for the full-fledged treatment of one cancer patient. I want to see those kind of links happening and prospering."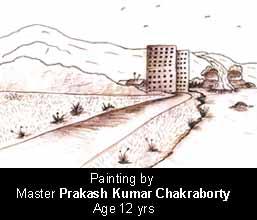 People, he says, often prefer to help patients with curable cancers than those afflicted with incurable ones. "But there are still people who come forward to help incurable cancer patients."
Working with children, he says, gives him a special sense of satisfaction. He says C-kids (courageous kids who conquered cancer) will surprise you with their zest for life and bubby nature.
"We had the Lagaan [actors who acted in Ashutosh Gowariker's Oscar-nominated film] team over last September. There was a cricket match between the C-Kids team and the Lagaan team. The kids won. Their day was made. They had a drawing competition later. Those paintings were made into cards. My kids went around selling the cards and they were so thrilled they could make some money."
| | |
| --- | --- |
| | Project Sahayata |
| | |



The moment a patient needs financial help, his/her profile goes up on indiacancer.org. All patients who need financial help will be displayed as thumbnails; the donor can then choose the patient he wants to help.

Once the patient receives the backing to take care of his/her treatment costs, his/her profile will be taken off the list.

Dr Jagannath also plans to display follow-up information on the patient. This will list the names of the donors and the patient's current health status. He says, "The reason behind this is very simple: you want to know what happened to the person you helped. This way, it is very simple to keep track of your patient."

Children, he says, are inspiring. "They are not bothered; it does not strike them that they are staring death in the face every minute. They live and enjoy life like normal people. It is adults who sit with long faces when the word cancer is mentioned. We need to learn from children."
Meanwhile, Dr Jagannath is propagating is the human touch. He says, "I was recently in Bangalore for a presentation on cancer at a software concern. At the end of the presentation there were 300 software professionals eager to donate money for cancer treatment. The thing is, in our country, we don't know how to follow through with our good intentions. That is what I plan to help people do through our web site."
Dr Jagannath knows he is merely touching the tip of the iceberg. "I know finance is a crunch to make these plans to come through. People have asked me to advertise. If I had that kind of money, I would rather spend it on my patients. But I have faith. If your focus is genuine and sincere, people will come to you. There is enough goodness in our country. All I have to do is tap it."