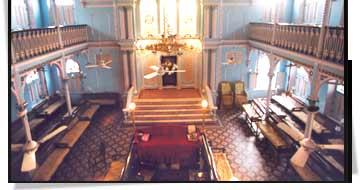 Samuel Israel has never been to Israel.
He is 83 years old, calls himself a 'Bandra boy' and is one of the 2,200 Jews living in Mumbai.
"I don't go around saying 'I'm proud to be a Jew'," he says, "but being Jewish is my identity."
It is not very difficult to understand what the genial Israel is trying to explain. Actually, it comes out quite upfront in the first few minutes of the meeting.
He and his wife Sarah, both liberal Jews, do not follow rituals in their home. His daughter-in-law is a Punjabi and they have accepted cremation as a desired option for conducting last rites.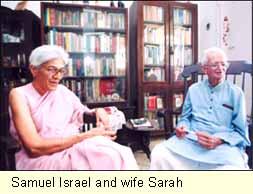 "Our community will not even think of doing this," says the former general manager of the Orient Longman publishing house, "and I may not be a very observant Jew, but religion for me is like family, you don't abandon it."
There are three Jewish sects in India -- Bene Israel, which forms the majority, the Baghdadi and Cochin Jews. They number between 5,200 and 5,500, and primarily live in New Delhi, Ahmedabad, Pune, Kolkata, Kochi and Mumbai. According to a Doordarshan report, 60,000 Indian Jews live in Israel.
The Bene Israels arrived in India 2000 years ago when they were shipwrecked off the Konkan coast in the village of Nowgaon. They were followed by the Cochinis who came from Majorca in Spain and settled on the Malabar coast, while the Baghdadis originated from West Asia.
There are around 100 to 150 Baghdadi and a handful of Cochin Jews in Mumbai.
A few days before Israeli Prime Minister Ariel Sharon arrived in India, Mumbai's Jews like the Israels witnessed a renewed interest in their community.
Before news arrived of Sharon's visit to the city being cancelled, policemen were stationed at the 117-year-old Keneseth Eliyahoo synagogue in south Mumbai even though the Israeli prime minister had cancelled his previously scheduled visit there. Around 400 members of the community had been invited to meet Sharon at a reception on September 11.
"Personally I don't welcome his visit," says Samuel Israel, "I wish one of his predecessors had visited us instead."
A former member of the Communist Party of India, he holds the oft-repeated charge against Sharon that the Israeli leader has a bad record as a military man.
A short distance from the Israels' home lives one of the most distinguished members of the community who feels Sharon's visit is important for Israel.
Retired Vice-Admiral Benjamin Abraham Samson, 88, as charming as he is gentlemanly, is amused with the publicity surrounding it.
"After all, he is like any other head of State making a visit," he says.
Sitting in his quiet bungalow surrounded by old black and white pictures, Admiral Samson is a goldmine of little and big stories.
He makes it plain he would not like to discuss Sharon when he was a guest in the country and instead reveals fascinating vignettes from his long naval career.
One of the most endearing stories lies in the newspaper clipping on his bureau.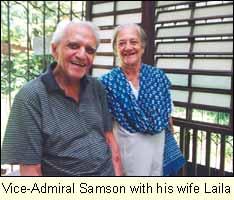 He was commandant of the National Defence Academy in Khadakvasla between 1959 and 1962 and among the 1,500 cadets, there was one who called him on January 1, 2003 to tell him that he had become chief of the second largest army in the world.
The cadet was General N C Vij. He had not met Samson after leaving the NDA, but called soon after his appointment as Chief of the Army Staff to invite the admiral for his swearing-in ceremony.
"I was so touched. My wife Laila and me went for the ceremony," says Admiral Samson whose daughter is the well known Bharata Natayam dancer Leela Samson.
Admiral Samson got a direct commission as lieutenant to the Royal Indian Navy in 1939. After serving in the Mediterranean, the Red Sea, the Bay of Bengal, his was the last ship out of Rangoon, the capital of Burma, when it fell to the Japanese.
"I was so surprised a few years ago when a man came to me at a club and told me I had saved his life in Rangoon. He said he was on board the passenger ship Chilka which we escorted out."
His family, like most Bene Israels or the children of Israel, came from the Konkan coast -- and the naval officer makes it clear there is no merit in focusing on him merely because he is a Jew.
"I am an Indian and have been entrusted with some of the most critical assignments for my country," says the officer who sent his nine-year-old daughter to the famed Rukmini Devi Arundale's school Kalakshetra in Chennai so that she could be exposed to Indian classical dance and music.
Annie, his late sister, was principal of Mumbai's Anjum-e-Islam Muslim school for girls, for 31-and-a-half years. "She lived on campus. There were just a handful of girls when she joined," he says pointing to a newspaper clipping on her, "but when she left there were 4,000 girls who studied in two shifts."
Woven between these tales is a very simple fact -- one he has brought forth with eloquence and perspective through anecdotes.
"I have never emphasised my Jewishness. There were times I didn't even know I was a Jew and that is true secularism," says the officer who commanded the Sutlej off the coast of Karachi when India won Independence.
Perhaps that is why Admiral Samson is puzzled by the focus on the city's Jews in the backdrop of Sharon's visit. "I wonder if countries in Europe do a feature on Indians before Indian leaders go there."
In Kochi, 15 Jews waited for Sharon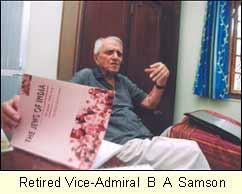 Having visited Israel two or three times, once on a quiet mission for the defence ministry, two of Admiral Samson's children and his wife Laila once spent six weeks in a kibbutz outside Tel Aviv.
His eldest son went on to marry an Israeli girl whom he met in the community kitchen and now lives in Canada.
The two Jewish practices the retired naval officer devoutly follows is saying a Hebrew prayer before going to bed and respectfully touching the mezuzah [a small inscribed scroll fixed on the doorpost] on entering and leaving his house.
Now leading a quiet life and having sold his car recently, he says he is too frail to make a trip to a synagogue at the other end of town.
The oldest synagogue in the city dates to 1796 and is called the Gate of Mercy. Mumbai has 10 synagogues, all of which are located in the south and south-central areas.
Mavis Symms, who is in charge of the administration at the more touristy Keneseth Eliyahoo synagogue, says she had entertained a lot of queries since news of Sharon's visit first became known.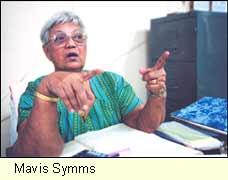 Built by the renowned Jewish philanthropist Jacob Sassoon, who also donated Rs 8 lakhs towards building the Gateway of India in 1911, the synagogue was visited by then Israeli foreign minister Shimon Peres on January 10, 2002.
"His visit is historic and it would have been awkward if Sharon had come to Mumbai and not met the Jews here. It is unfortunate that the visit was cancelled," says Elijah Jacob, country manager of the Indian chapter of the American Jewish Distribution Committee, a cultural organisation aimed at strengthening Jewish identity.
The American Jewish Distribution Committee spent about three weeks rehearsing a cultural programme depicting India-Israel ties for the Israeli prime minister, and Jacob says the young performers are disappointed with the cancellation.
"We have a connection with the state of Israel," continues Jacob, "After all, it is the source of Judaism and we are proud of it."
In India, Ariel Sharon came as an honoured guest for some and a tyrant to others. But his visit did achieve one thing worthwhile -- it drew the spotlight on India's Jews and their contribution to the nation.
It's time to say shalom to them.
Photographs: Jewella C Miranda. Design: Lynette Menezes