She is 5'11 and ¾ inches tall, but model Shonal Rawat has skilfully fitted herself in a corner seat less than half her size. Several small and semi-big bags are strewn around her as she dozes with an O' Henry novel in her lap.
"Actually, it's my fault," she says, curling her feet to make some room, "I slept at 3 am and woke up at six."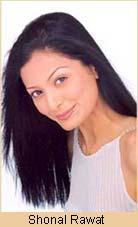 Her parents had left for their home in Kolkata that morning. She had finally bought a refrigerator -- her first -- just a day ago and raced to make it on time for a fitting schedule at the other end of Mumbai on a grim wet day.
The fittings -- or dress rehearsals -- for the India Fashion Week 2003 had a nerve-wracking schedule, but for the genial beauty, it was a clincher.
She arrived in the city only three months ago to make it as a model and here she was -- already making a dream debut at the biggest fashion fiesta in India.
"You have to prove your worth in this city, only then can you become a model," says the Kolkata native, who was one among the 11 female and two male models selected from a gruelling audition of 53 women and 87 men.
After the selection, there was only one priority on Shonal's checklist -- her car. The distance between her rented, sparsely furnished apartment in northwest Mumbai and the venue is about 30 kilometres; transporting her car from Kolkata to Mumbai became an absolute necessity.
"I can't afford travelling by cabs," she says rather matter-of-factly. "My parents drove down here with my car, and now I discover the organisers have arranged a pick-up for us."
Shonal first came to Mumbai this year as a participant at the Femina Miss India contest, where she won three of the sub-title awards. She had already spent one-and-a-half years on the Kolkata modelling circuit and got a chance to host one show for MTV's Most Wanted.
She also met designers Neeta Lulla and Hemant Trevedi and director Sanjay Leela Bhansali during the preliminary rounds of the Miss India contest and was thrilled with their feedback.
"I had reached saturation point in Cal [Kolkata]," says the science graduate, who has resolutely decided not to hire a maid for any domestic chores.
"I weighed 70 kilos in Cal and the Bombay [now known as Mumbai] models are so thin!" she shrieks. "That's the best way I can stay in shape. I hate gymming."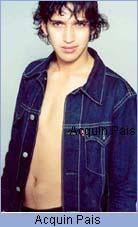 Like all fresh settlers in the city, her concerns are basic and commonplace. Work is trickling in and though she hopes to be noticed this week by the stars that drive India's fashion industry, she has done the drill of an upcoming model.
The schedule basically remains the same -- regular treks to numerous advertising agencies to deposit pictures, and treks with housing agents (brokers in Mumbai slang) to search for a suitable place to call home.
Shonal saw about 50 apartments. Bangalore boy Acquin Pais went through three brokers, Delhi's Kaveri Khullar changed paying guest accommodation six times in three years and Shahwar Ali from Bhopal moved three apartments in the same building.
Every year, numerous aspiring models arrive in Mumbai after exhausting the A to Z of modelling options in their cities. Spurred by the success of the Miss India-generated cottage industry of fashion shows in smaller towns and cities, the glitz of the city's ramp is too tantalising to resist.
Shahwar was a fitness instructor at Bhopal's Jehnuma Palace Hotel when he saw an advertisement for the Mr India contest in 1998. He made it to the top six, became the 'Mr Physique' of the contest, won Rs 25,000 and saw his pictures splashed in the local newspapers.
Today, his brown hair is stylishly streaked in gold. So are his eyebrows, moustache and beard.
As he walks into the local Barista, the hangout for urban yuppies and wannabes, he draws deferential approval from those inside the coffee shop. The gym he goes to has given him free membership, there are free passes for parties and dos every other day, and a recent ad campaign for a shirt company fetched him 40 to 45 new shirts just like that!
"I was doing fashion shows in Bhopal and in other cities and realised I was making more money in one show than I did at the hotel in a whole month," says Shahwar, who moved to Mumbai three-and-a-half years ago and has done campaigns for Smirnoff, Wagon R, Hero Honda Ambition and Trigger jeans.
An escort for Yukta Mookhey and Lara Dutta for consecutive years during the Miss India contest, he was noticed by a buyer for Selfridges, London, at last year's Fashion Week, which landed him a campaign for Calvin Klein.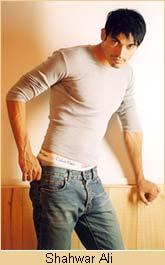 The going has been good, he says. He is hoping to buy a house shortly and assignments have taken him to South Africa, Kenya, Dubai, Switzerland, Mauritius, the US and UK. He recently did a photo shoot for US fashion magazine V Man with international model Marcus Schenkenberg and has also finished shooting for a film for director Rajiv Rai. Called Asambhav, the film stars model-actor Arjun Rampal, former Miss World Priyanka Chopra and Naseeruddin Shah.
If it's films for Shahwar, for 22-year-old Acquin Pais, it's all about going international. "I don't like Bollywood. I'm focussed about Milan," says Acquin, who wants to walk the ramp at fashion's ultimate destination in six months time.
Of Indo-British parentage, the computer science graduate was spotted on Bangalore's M G Road by model Svengali Prasada Bidappa two years ago.
After a year-and-a-half in Mumbai, he says work is coming slowly but believes his light-eyed, fair-skinned, longhaired looks don't leave much scope for a career in India.
"I am not bragging," says the face in the Frooti and Seven Up ads, "it's just that my looks don't fit in."
Sitting on a couch in the stately lobby of the Taj Mahal hotel with a sweater tied loosely around his neck, he says he moved to Bangalore after his father's sudden death in London to look after property matters.
"My mom lives in London and when she came to visit me in Bombay, I tried my best to dissuade her from seeing the PG place I was living at that time," he laughs.
The room was a hellhole in a run-down bungalow, and someone who could have easily exchanged notes on horrific PG digs with him, is napping in a room just across the corridor.
Kaveri Khullar, a full-time marketing professional and part-time model, came to Mumbai because it was a safer city than Delhi. She shared her first room in the city with two others and says she had a terrible time with her landlady.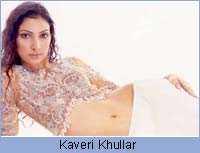 "But I have found a nice family now," she says of her present paying guest accommodation. "They are broad-minded, though I'm not much of a night bird myself."
The daughter of a retired colonel now settled in Dehradun at the foothills of the Himalayas, Kaveri has taken a fortnight off from work to participate in the fashion week. Kaveri is assistant marketing manager at Virgin Records.
Sitting beside a copy of Rebecca Wells' Divine Secrets of the YA-YA Sisterhood during a fitting break, she languidly explains how she becomes the butt of jokes during office lunch breaks for being a model. "They pull my leg with stuff like here's a beauty who has the brains to write press releases," she chuckles.
Seemingly headstrong about not taking up modelling full time, Kaveri says she is never desperate to get work, but is candid enough to accept that it would have been upsetting if she hadn't given it a try.
On course, with her first big ramp outing this week, one of the things she does not want to lose sight of is a six-word instruction from her parents -- "No wearing titbits on the ramp."
It's a code of sorts that upcoming models seek to adhere to. In Shonal's interpretation, it means keeping a 'sweet-sweet image' with no bikini shots, while Kaveri says it is about 'not compromising your self-respect.'
The competition is tough but these new entrants are certain they will be able to make it on their own terms.
If it doesn't work out, they say it would hardly mean the end of the road. Shahwar has already stuck his toe in Bollywood; Acquin has got feelers from two agents in Milan; Kaveri is certain about not just being a model and Shonal has given herself six months to make a mark. "If I can't make it in six months, I don't think I ever can, because real potential shows right away."
Design: Lynette Menezes
Have you checked out...
'The India Fashion Week official was rude'
Backstage with Ritu Kumar
Peek-a-boo outfits and shocking lyrics
A perfect fit
IFW's glam new faces