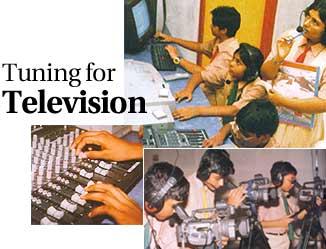 It's a dull, rainy day at Malad, a north-west Mumbai suburb. But even the biggest downpour of the season cannot dampen the spirits of a group of 30 students from the Ryan International School and Cambridge School, its affiliate in the neighbouring suburb of Kandivali.
These bright young boys and girls have made their way into the Limca Book of Records by putting together India's first in-house television channel run by and for school children. This is their opportunity to get a first-hand experience of real-time television programming.
The ground floor auditorium of Ryan International is abuzz with excitement as students, parents and a select group of special invitees -- mostly television actors -- await the commencement of Ryan TV's first live telecast. A huge screen plays clips of a chat show conducted by Shweta Parakh, a bubbly 9th standard Cambridge student.
The disastrous mike system ensures Shweta's debut on television is a soundless wonder, but she keeps chattering on oblivious to the first technical glitch in the mammoth exercise she and her fellow students have undertaken.
After what seems like forever, order is restored and the mike crackles back to life, just in time for the inaugural speech by Dr A F Pinto, founder-chairman of the St Xavier's and Ryan International Group of Schools which runs over 70 educational institutions all over India.
Like a dignified head-of-state addressing his subjects on a matter of national importance, Dr Pinto speaks of the purpose behind this novel enterprise. "Our objective is to enable students to produce their own programmes because we believe that television is an effective tool for imparting quality education," he says.
Six floors above him, a group of eager beavers are toiling hard to ensure the show proceeds without a hitch. Outside the actual recording studio, a sleek console is equipped with three television screens and on-line and off-line editing systems. Three male students are sitting in front of the editing set-up while creative director Vrinda Ghai, who is co-ordinating the live telecast, gets worked up and starts barking out instructions into her fancy mouthpiece "Guys we are going live. Cam-2, where is your shot? Cut to Cam-2." The tension of producing a real-time show is palpable on her nervous face.
Inside the studio itself, Dr Pinto has finished his speech and made way for Shweta who prepares to conduct her first live interview with model-turned-actress and former Miss World Priyanka Chopra. Shweta fires her maiden question: "What do you think of our studio?"
The actress gushes, "I couldn't believe my eyes when I saw this studio for the first time. When I was studying in the US, we had television sets in every classroom and we would produce our own shows. All you kids have so much confidence and know what you want. I am impressed that children like you have such opportunities"."
Next, there's live chat between Priyanka and Priyam, a very excited youngster who is facing the camera on the ground floor. She wants to know if the actress would agree to do a film with the kids. "Give me a really good narration and tell me who my cameraman and director will be. Also, I'd like to know who is going to be my co-star. If he's really cute, I'll do it," says Priyanka, flashing her brightest smile.
A male student from the production team sitting outside the studio shouts out, "I'll be her co-star," and for the next few seconds, revels in his fantasy. The student sitting next to him is preoccupied with trying to click a picture of his favourite actress and finds it difficult to concentrate on his job at the console.
The star, meanwhile, keeps the audience riveted with her experiences as a model and an actress and talks of how she got chased around by a baby ostrich while shooting for Andaaz (her second Hindi film, where Akshay Kumar and former Miss Universe Lara Dutta were her co-stars) and how her mean co-stars and crew just laughed on and on as she ran helter-skelter.
While everyone else is having a good laugh at Priyanka's jokes, Utkarsh Marwah, creative director of the Ryan International Group and the man who has trained the children and help put their show together, is running back and forth from the studio to the editing facility trying to ensure the feed proceeds smoothly.
The interview ends and, like every other professional television channel, is followed by a Ryan TV promo featuring a bunch of giggly students and comic actor Johnny Lever who endorses the network.
Next, Rithika Arya anchors 'Fashion TV' and, on her maiden show, takes a walk down Mumbai's famed Fashion Street with a cameraman who has obviously been watching a lot of MTV and seems to enjoy experimenting with various angles.
There are a couple of other interviews featuring Dino Morea and television star Ravi Behl and, while they too are conducted fairly professionally by the students, the content being dished out on Ryan TV throws up a couple of questions about its avowed purpose.
In fact, the entire two-hour package put together for the inaugural show is dominated by glamour. Even the news bulletin has a story about the latest Bollywood hit and another feature on video piracy.
But Meenakshi Bhargav, headmistress of the school, is optimistic about the utility of the channel. "We have television sets in all the higher classes and plan to produce our own school news bulletin, which children can watch during their lunch break. The programmes produced for Ryan TV will be in tune with the school syllabus," she insists.
Adds Grace Pinto, director of the group of schools, "We are taking this exercise very seriously and it will be a part of the two periods set aside every day for activities related to the performing and creative arts. We have set aside 20 marks for internal assessment, which will encompass all these activities, including television."
She says the only reason most parents agreed to let their children participate in the training workshop was because they were convinced about its seriousness.
Nobody is willing to discuss the actual cost of setting up the studio but the three-camera set-up and state-of-the art equipment suggests a huge infrastructure expense, apart from the cost of day-to-day production.
Interestingly, during the 16-day workshop conducted by Marwah to train the first batch, each of the students got an opportunity to try their hand at every aspect of television production including scripting, editing, camerawork and sound design.
"As part of the project, they had to script, shoot and edit their own films," he says.
Like young Apurv Goel who shot a music video for the song, Phir bhi dil hai Hindustani, from actor Shah Rukh Khan's debut production. "I conceptualised and shot the entire video right here in school. Luckily, we had a few foreigners visiting our campus and I made them act in the video," says Ryan TV's proud production head.
You notice that many of the students already conduct themselves like minor celebrities and drop appropriate one-liners effortlessly. "Every anchor is a confident speaker and every director is an able leader," says Shweta in all seriousness. She seems to be enjoying her big moment and is keen to continue working towards becoming a professional television anchor, but insists that running her father's diamond business still remains her primary career choice.
Programming director Mittu Torka, a 9th standard student from Ryan International, has reassessed her goals in the wake of her newfound status on Ryan TV. "Earlier I wanted to become a doctor, but now I want to be a journalist. I have realised the importance of the media," she says.
Her co-student Abhishek Mistry, who is another member of the production team, loves his new job because it gives him an opportunity to boss over his friends. He wants to grow up to be a filmmaker. But no Bollywood masala for this aspiring director. "I will make movies like The Matrix: Reloaded which have amazing special effects," says India's future Steven Spielberg before rushing off with his friends to celebrate his first brush with stardom.
The RYAN TV team
Programming director: Mittu Toeka
Creative director: Vrinda Ghai
Editing: Raj Gaurav
Head of sound: Khsif Arya
Head of production: Apurv Goel
Anchors: Ritika Arya (English), Priyam (English), Shweta Parakh (Hindi)
Camera team: Tanisha  S Jajoo, Rudren Ganatra, Parth Paik, Farhan Shaikh
Production team: Nikit S Agarwal, Annie Bosco, Parth Kadakia, Shweta Dubey, Isha C Shah, Samay Bhattacharya, Abhishek Mistry, Siddarth, Yogita Punjabi, Unnaty