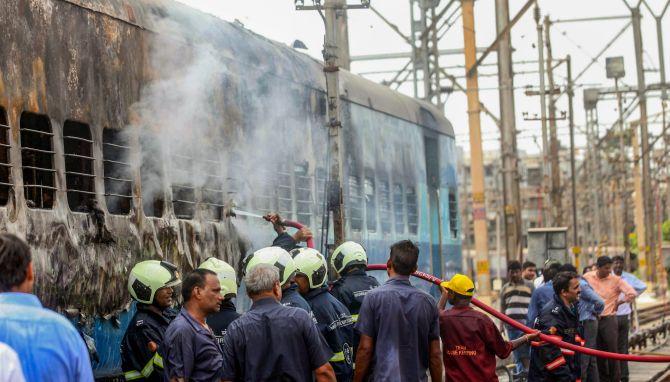 A spare coach of an express train parked at the Chhatrapati Shivaji Maharaj Terminus (CSMT) railway yard in Mumbai caught fire on Tuesday afternoon, an official said.
Nobody was injured in the fire that broke out at 2.50 pm, the official said.
Following the blaze, the power supply of overhead wires was disconnected as a precautionary measure and the fire brigade was called in, Sunil Udasi, chief spokesperson of the Central Railway, said.
"Before the fire brigade team arrived, coaches positioned next to the affected one, were shunted out and the adjoining rakes on the nearby line were also moved out," he said.
The alert staff of the division used water from the coaching depot and fire extinguishers installed in other coaches, to douse the flames, he added.
The fire brigade reached the spot around 3.25 pm and launched the fire-fighting operation and the blaze was brought under control within a few minutes, the official said.
"Within half an hour, the fire was doused and cooling process was initiated," he said.
According to another official, a high-level inquiry committee comprising senior railway safety and security officials, including senior divisional security commissioner, was formed to probe the incident.
"The inquiry committee will investigate the exact cause of the fire," the official said.
Following the incident, some long distance trains, including Konark Express, Kanyakumari Express, Nandigram Express and Pragati Express were rescheduled.
The delay was in the range of 10 minutes to 1.15 hour, a Central Railway official said.