In the worst ever terror attack on Spanish soil, a string of explosions took place on Madrid's railway network at the height of morning rush hour on Thursday killing, according to latest reports, 186 people and wounding more than 1,000.
Interior Minister Angel Acebes said there were a total of 10 explosions at the Santa Eugenia, El Pozo and Atocha stations, and three other bombs found and detonated by police.
The most deadly blast happened on a train entering Madrid's main Atocha station, according to Acebes.
Security forces found other bombs and detonated them in controlled explosions, he added.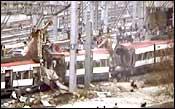 Spain's government blamed Basque separatist group ETA.
The attacks came barely three days ahead of the Spanish general election.
Spain's conservative ruling Popular Party -- which has taken a hard-line stance against ETA -- is currently leading in the polls ahead of the election.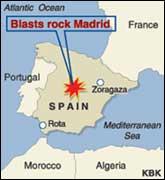 Basque Member of Parliament Gustavo Aristegui, who was in Madrid at the time of the attack, also blamed ETA. "This is probably Spain's worst terrorist attack in history -- not probably, surely our worst terrorist attack ever," Aristegui told CNN.
"There are people that are real monsters that are trying to blackmail the whole society through acts of terror."
In an address to the nation, Prime Minister Jose Maria Aznar took a firm stand against terror and terrorists, saying "there is no possible negotiation with these killers."

In Strasbourg European Parliament President Pat Cox said the attacks amounted to "a declaration of war on democracy".
Cox led a minute's silence at the start of the legislative session and said the parliament would fly the EU and Spanish flags at half mast.
"No more bombs, no more dead," Cox said in Spanish at the hushed legislature.
Spanish members of the EU assembly were seen hugging during the emotional statement and moment of silence.
Spain's European Commissioner Pedro Solbes also attended the session as did the leader of the Socialists in the chamber, Enrique Baron.
In London, Foreign Secretary Jack Straw condemned the blasts and said Britain stood "shoulder to shoulder" with Spain in the face of the disgusting terrorist atrocities.
Factfile
ETA (Euskadi ta Askatasuna) is fighting for an independent Basque state in northern Spain and southwestern France.
The group has killed nearly 850 people since 1968, typically using car bombs or shootings. The number of ETA killings had been falling, from 23 in 2000 to three in 2003.
Spain, the United States and the European Union have listed ETA as a terrorist organisation.
In 2002 the Spanish government banned the Basque political party Batasuna, which it described as ETA's political wing. The party denied the charge. Batasuna won 10 per cent of the vote in Basque parliamentary elections in May 2001.