The BJP is seeking backdoor entry for Yogi and four of his ministers to the state legislature.
Virendra Singh Rawat reports.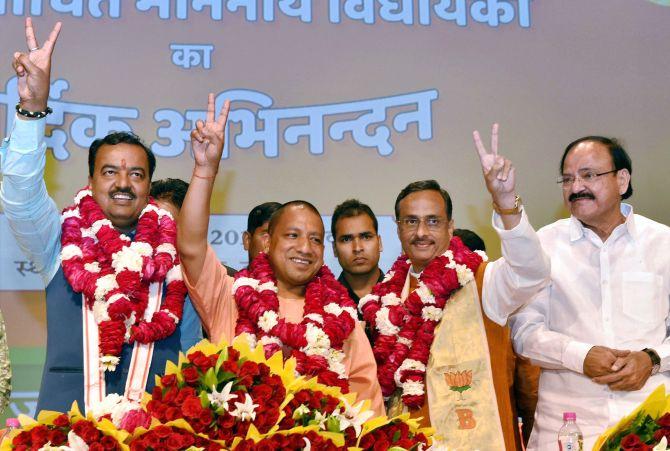 Even as Samajwadi Party President Akhilesh Yadav attempts to corner the Uttar Pradesh government over its purported failures on health and law and order issues, he is battling trouble in his own backyard.
Ashok Bajpai, a founding member of the party and a close aide of SP patriarch Mulayam Singh Yadav, formally joined the Bharatiya Janata Party in the presence of Union Home Minister Rajnath Singh.
As the SP candidate Bajpai unsucessfully contested the 2014 Lok Sabha election against Rajnath Singh.
Besides, SP women's wing former president Shweta Singh also joined the BJP apart from a prominent traders' leader.
On August 9, Bajpai had resigned from his Uttar Pradesh legislative council seat.
Over the past three weeks, several of Mulayam's close aides have shunned the SP and joined the BJP, including Bukkal Nawab, Yashwant Singh and Sarojini Agarwal.
While Nawab and Singh resigned on July 29, Agarwal tendered her resignation on August 4.
Senior Bahujan Samaj Party member and former UP minister Jaiveer Singh also resigned on July 29 and later latched on to the BJP.
According to sources, more SP legislators are biding their time to jump over to the BJP camp. This process gained momentum after BJP President Amit Shah's recent three-day visit to Lucknow.
Under Akhilesh, the SP has desperately trying to keep its flock together over the last year after a bitter power feud broke out in the outfit.
All four SP MLCs attributed their resignations to lack of leadership in the party and disrespect for Mulayam as the reasons for giving up their Upper House seat.
The spate of resignations have provided a big relief to the BJP as UP Chief Minister Yogi Adityanath, Deputy Chief Ministers Keshav Prasad Maurya and Dinesh Sharma and senior ministers Swatantra Dev Singh and Mohsin Raza are not members of any House of the state legislature.
While Yogi and Maurya are Lok Sabha MPs from Gorakhpur and Phulpur respectively, the other three are not members of any federal or provincial legislatures.
A member of the state council of ministers is required to be elected to either House within six months of assuming office.
Yogi and the ministers took the oath of office on March 19, so they have time till September 18 to be elected to either the Vidhan Sabha through a direct election or indirectly to the Vidhan Parishad.
By fielding its top leaders who are already ministers, including Yogi, in a Vidhan Sabha election, the BJP does not want to give the Opposition any chance to forge a unified front against the BJP.
Therefore, the party is seeking backdoor entry for Yogi and four of his ministers to the state legislature.
Another BSP MLC Ambika Chaudhary also resigned from the Upper House.
Chaudhary, who was earlier with the SP and was close to Mulayam, had quit before the UP assembly election and joined the BSP. After resigning, he said he would remain with the BSP though.
IMAGE: Yogi Adityanath flanked by Keshav Prasad Maurya and Dinesh Sharma on March 17, 2017, the day before they were sworn in as UP chief minister and deputy chief ministers respectively.