Thousands of people have lost their lives and thousands more displaced in the violence in South Sudan.
The United Nations mission and humanitarian agencies are under strain to protect camps and to provide internally displaced persons with water, food and other emergency relief.
What flared up as a political conflict is now assuming an ethnic character, explains Manoj John.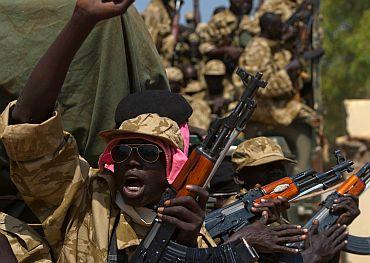 International efforts at peace and resolution of conflict in South Sudan have not yet succeeded as fighting continues.
Peace efforts and mediation process look long and painful, thanks to the lack of adequate pressure from the international community.
As the conflict shows no signs of resolution, stories of brutal killings, internal displacements of millions of civilians, including thousands of orphaned children, are pouring in.
Thousands of people are seeking refuge in United Nations compounds across the nation and 200,000 thousand are displaced across the country -- the humanitarian crisis is assuming dangerous proportions.
What is more worrying is the news that what started as a political conflict or power struggle between President Salva Kiir and former vice-president Dr Reik Machar is now assuming an ethnic character.
History of tribal conflicts
The inter tribal and ethnic conflicts between tribes in South Sudan, mainly the Dinka, Lou Neur and Murle tribes, were part of regular conflict in the Jongeli state of South Sudan for many years during the summer.
This happens when the struggle for pasture lands for cattle herds during dry summer induces conflict for scarce resources of grasslands and water.
The role of cattle is significant in adult male life as the number of cattle is significant to the social status and wealth of a male across any tribe. These conflicts are termed as 'pastoral wars'
The new country of South Sudan came in to existence in 2011 after a referendum on ceding from Sudan following two catastrophic civil wars from 1955 to 1972 and from 1983 to 2005.
In 2005, a Comprehensive Peace Agreement was signed paving the way for the 2011 referendum and the formation of South Sudan with Juba as its capital.
The South Sudan People's Liberation Army/Movement led the conflict for independence, but it was formed by a complex web of tribal alliances -- some of them deserting and joining the Khartoum government of Sudan and then coming back with the SPLA to fight against Khartoum.
Dr Riek Machar, and his Lou Nuer allies, revolted against Dr John Garang's SPLM/A and formed a splinter group -- the South Sudan Defence Force.
During the late 1990s Dr Machar was backed by the government of Sudan from Khartoum, but eventually rejoined the SPLM/A and rebranded his militia as the Sudanese People's Democratic Forces.
Although Dr Machar as an individual was reconciled with the political elite in Juba, the Lou Nuer's treachery provided a strong political motivation for further political troubles.
President Salva Kiir Mayardit, who succeeded the late SPLA founding leader John Garang, went ahead and appointed Dr Machar as his deputy after independence.
The Comprehensive Peace Agreement of 2005 visualised transforming SPLA from a guerrilla force to a formal army quartered in encampments.
Thirty years of civil war had inundated the country with small arms and light weapons. The CPA failed to provide a mechanism to contain the arms and failed to effectively disarm different groups.
The efforts at disarmament by the SPLA broke down and led to further violence in 2006 itself which although led to capture of 3,000 small arms but led to the killing of more than 1,000 white army cadres consisting of Lou Nuer and about 300 SPLA.
Pastoral violence and killings continued between the Dinka, Murle and Lo Neur tribes through the later years and topped in 2011 and 2012.
The 10 states now part of South Sudan are Central Equatoria, Western Equatoria, Eastern Equatoria, Jongeli, Unity State, Warrap, Upper Nile, Northern Bahr El Ghazal, Western Bahr El Ghazal and Lakes.
Present conflict
The present conflict was triggered in July 2013 when President Kiir sacked Dr Machar and the entire cabinet.
President Kiir belongs to the majority Dinka tribe and Dr Machar from the second largest Neur tribe.
In the second week of December 2013, Kiir accused Dr Machar attempting a coup and the trouble started.
Fighting started and heavy atrocities were reported in Juba itself between December 16 and 19 with heavy casualities from both tribes.
The violence then spread to Jongeli where forces loyal to Dr Machar took over the capital Bor. Heavy fighting continues in Upper Nile state and Malakal for territorial control and also in Unity state and capital Bentiu.
The danger of the present conflict now engulfing South Sudan is that it has assumed an ethnic character. Although it can be seen as primarily between Dinka (SPLA supporting Kiir and Dootku Beny (Kiir Brigade) and Lou Neur or the white army on the main fronts, but fighting has been reported within the barracks of the SPLA among themselves along ethnic lines.
There is no way now to estimate the death toll as bodies lie littered on the streets in many states.
Thousands of people are estimated to have died in the violence and some 180,000 others have been driven from their homes, up to 75,000 of them seeking refuge on the bases of the UN peacekeeping Mission in South Sudan, UNMISS, almost 20,000 people in Juba alone and another 25,000 in Malakal in Upper Nile.
International rights groups accuse conflict has assumed the character of genocide.
The term 'genocide' has been defined as acts like killing or physical destruction of members of a group of people committed with the intent to destroy a national ethnic or religious group of people.
There is a clear and lurking and lurking danger that the ethnic violence may assume the nature of genocide as we saw in the Balkans or in Rwanda.
The UN Security Council voted to send nearly 6,000 extra soldiers and police to South Sudan, nearly doubling the UNMISS force to 12,500 troops and 1,323 civilian police.
United Nations Secretary-General Ban Ki-moon urged the government to free political prisoners to facilitate talks with rebels.
UN human rights chief Navi Pillay said mass graves had been found in rebel-held Bentiu and cited reports of at least two more in Juba, the capital.
UNMISS and humanitarian agencies are under strain to protect camps and to provide internally displaced persons and those who sought shelter in UN compounds with water, food and other emergency relief.
UN Mission chief Hilda Johnson has been continuously appealing for ceasefire and an end to hostilities.
The presidents of Uganda and Kenya came to Juba and most East African leaders condemned the violence. The eight East African counties constituting the Inter Governmental Authority on Development are taking the initiative for talks and mediation efforts.
The peace talks could be aimed to achieve:
a. primarily, a ceasefire from both parties;
b. agree on an agenda for talks and chalk out talking points;
c. agreements on areas of immediate concern including establishing peace zones, release of detainees, return of displaced civilians to their homes;
d. negotiation on areas of disputes and differences with intention on reaching a peace deal or rather a road map for peace;
e. direct talks between Kiir and Machar with IGAD/AU/UNMISS/EU/US/etc: mediation and a possible peace deal involving basically power sharing.
A strong intervention by the African Union should supplement efforts of IGAD countries and increased efforts by the UN and its mission (UNMISS) and more concerted efforts by international community are urgently needed to resolve the crisis.
Manoj John was a former UN staff member.
Image: An SPLA soldier in Juba, South Sudan. Photograph: Reuters