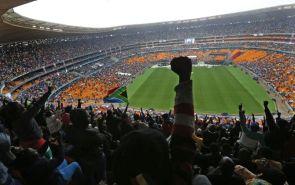 Far from the political noise generated by state assembly elections, Congress President Sonia Gandhi and Leader of Opposition Sushma Swaraj on Tuesday had lunch together at a five-star hotel in Johannesburg soon after attending the memorial service of anti-apartheid icon Nelson Mandela.
Gandhi and the senior BJP leader spoke to each other at the lunch table, where Commerce Minister Anand Sharma, Bahujan Samaj Party leader Satish Chandra Mishra and Swaraj's daughter Bansuri too were present.
The Congress chief was flanked by Swaraj on her right and Bansuri on her left. CPI-M leader Sitaram Yechury joined them a little later.
After lunch, Gandhi declined to answer any questions from Indian journalists and pointed to Swaraj, who was following her. Swaraj too refused to reply to any query on politics in India, specially the hung verdict in the Delhi Assembly polls.
She was happy to comment on Mandela's memorial service, saying it was a "momentous" occasion and the biggest test of the late South African leader as a great unifying force.
"Here was a man who struggled so much without even being sure where his struggle would lead the South Africans to," she said.
Even those who opposed Mandela in his lifetime were at the memorial service and commended the value and the ideals for which he stood, she said. Mandela's struggle extended beyond South Africa to many parts of the world and "this in itself is historic", Swaraj said.
Mandela died on December 5 at the age of 95 after a protracted illness. Tuesday's memorial service was part of a series of events organised to pay tribute to him before his funeral on December 15.
India was represented at the memorial service by a delegation led by President Pranab Mukherjee.