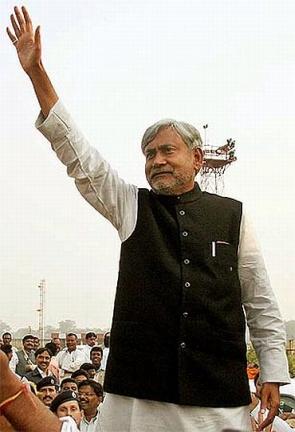 Cautioning against forces which fan communal tension in order to polarise the situation in their favour, Bihar Chief Minister Nitish Kumar on Monday voiced concern over the Muzaffarnagar riots and said such violence cannot be allowed to spread.
Speaking at the National Integration Council, Kumar, whose party Janata Dal - United snapped its 17-year-old ties with the Bharatiya Janata Party in June to protest Narendra Modi's elevation, asked whether competitive politics should necessarily lead to passionate persuasion of a "divisive agenda".
The Bihar chief minister also voiced concern over the frequency and magnitude of religious processions, which are "some times given innovative names like yatra and parikrama.
"We see that whenever there is communal violence, more often than not, the involvement of anti-social elements draws their strength in collusion with the political class. We have seen what happened at Muzaffarnagar. This is a matter of deep concern. We cannot allow this violence to spread all over the country. Some forces fan the fire of communal tensions in order to polarise the situation in their favour. This kind of political thinking completely stuns me," Kumar said.
Stressing that such forces should be fought with all the strength and their "nefarious" plans should not be allowed to succeed, he said people of India want good governance, "but not at the cost of societal instability and violence...they do not want to be entangled in old slogans of division and hatred".
"A multi-party democracy invariably leads to competitive politics aimed at cornering a larger share of votes. But we must ask whether it should necessarily lead to a passionate persuasion of a divisive agenda. Doing so may deliver short gains for some, but it eventually leaks to weakening of basic premise of our nation itself," Kumar said.
In the backdrop of the BJP highlighting the Gujarat development model of its prime ministerial candidate Modi, Kumar said that along with good governance and progress, "we will also have to strengthen a culture wherein India's plurality and diversity are vibrantly represented".
"In my view, the foundation of a progressive India is communal amity, social harmony and inclusive growth. Until we do not strengthen the tapestry of communal amity and social harmony, we cannot have economic development on enduring basis. We will need to adopt an inclusive approach to all sections of our people," he said.
Kumar also flagged the issue of low representation of minorities in police and armed forces and the need for their overall social, educational and economic upliftment.
Referring to a number of measures taken by his government in Bihar in this regard, he suggested that the Centre organise awareness camps for careers in armed forces in minority concentrated districts and hold special recruitment rallies.
He also focused on the issue of safety and security of women and underlined the need for "extraordinary measures".
Kumar also talked about the need to empower sub-castes among the Scheduled Castes grouped together as 'Mahadalits' and the setting up of Mahadalit Commission by his government.
The measures for educational and economic upliftment of SCs have not fully percolated to all strata and there are sub-castes which "remain largely untouched by the benefits of reservation in jobs and other such welfare measures," he noted.
Coming back to the issue of communal amity, he said co-existence and harmony cannot be compromised and "we will have to be vigilant against those seeking to unravel this national consensus...all political parties have a crucial role in this scenario".
Communal riots, Kumar said, are the "acid test of neutrality and objectivity" of police and the law-enforcing authority.
"The police force has to be trained to develop a mindset which enables them to rise above caste, creed or religion in situations of conflict and violence. Those perpetrating communal violence should be investigated and booked under the most stringent provisions of law and put to speedy trial," he said.
Noting that tackling situations of communal conflict requires a different approach and orientation of the police force, he said Bihar has decided to raise anti-riot battalions in each district.
He also chose the occasion to flag the need for more central armed police forces for Bihar in view of a number of religious festivals scheduled in the next few months.
Mentioning a recent incident in Bihar where "offensive tableaus based on political satire over minority versus majority issues" were displayed in a religious procession and triggered communal tension, Kumar said the state has since banned such depictions in procession or pandals on religion occasions.
"This needs to be codified in a central law and implemented all over the nation," he demanded.
Noting with concern the increasing number, frequency and magnitude of religious processions which are sometimes given innovative names like Yatra or Parikrama, Kumar said, "This is unwarranted."
Holding that these are now turning into occasions for public show of strength, display of weapons, beating of loud music and unruly mob-behaviour, he urged that religious leaders and political parties educate their followers and cadres to shun such practices which stir up communal tension.
At the outset, he said the NIC meeting was a much-felt need as communal violence and violent conflict recently re-surfaced in certain parts of the country.
"If not stopped, the trend may spread and develop into a pattern. At this juncture, it is imperative to reaffirm our commitment to...secularism, with security and protection to all sections of society," he said.