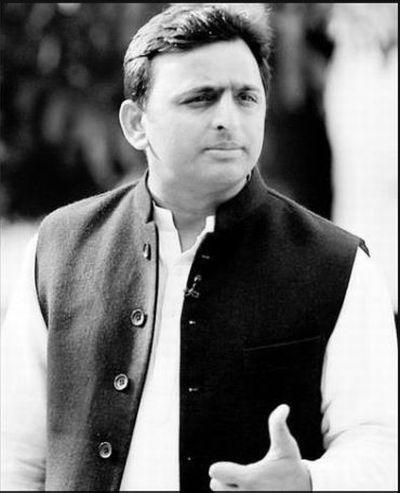 'Charging that some main political parties are trying to "dangerously" disturb the communal harmony in Uttar Pradesh ahead of Lok Sabha polls, Chief Minister Akhilesh Yadav on Monday warned such forces of stringent action.
He also demanded that the Centre put in place a mechanism to check misuse of social media and mobile phones to fan communal tension.
"At present, it seems that some of the main political parties are trying to dangerously harm the communal harmony of the state in view of 2014 general elections. Efforts are on (by them) to polarise people of the state," Yadav said during a meeting of National Integration Council in New Delhi.
He said small incidents like vehicle accidents, eve teasing, which can be sorted out at local or panchayat level, are being converted into big problems by vested interests.
Talking about the violence in Muzaffarnagar, he said strict action will be taken against those found to be involved in it.
As per the 2011 census, Uttar Pradesh has a population of about 20 crore and Muslim community forms 18.5 per cent of it.
"One out of five individuals in UP is a Muslim who has been living peacefully in the state known for its 'ganga-jamuni' tehzeeb (people of all faith living together)", he said.
"But from the past decades, efforts are being made to disturb communal harmony which has resulted in riots," Yadav said.
He termed the demolition of Babri masjid some years back as a pre-conceived conspiracy by vested interest in order to harm communal harmony.
"Demolition of Babri masjid demolition is a black chapter in the history of country and state's communal harmony," the chief minister said, adding his top priority is to ensure peace and harmony in Uttar Pradesh.
Yadav said some political parties tried to raise communal tension over some incidents due to vested interest which resulted in the Muzaffarnagar violence.
Communal tension was being spread in rural areas also to disturb peace and harmony but the authorities immediately took necessary steps and deployed army in Muzaffarnagar and Shamli area and controlled the situation, he said, adding 2,255 people, including elected members, have been arrested in this connection.
In the name of making Shri Ram Temple in Ayodhya, Vishwa Hindu Parishad had organised so-called '84 kosi yatra' from August 25 to September 13. The traditional 'yatra' has already been conducted between April 25 to May 20 and there was no basis for VHP to organise it later, he said.
"It (84 kosi yatra) was done to take political mileage by disturbing communal harmony of the state," he charged.
Yadav charged that the proposed 'panch kosi parikrama' between September 22 to October 13 is also an attempt to disrupt the peace and harmony of the state. "It is utmost important that all groups in society and political parties realise their responsibility and contribute towards peace process," the chief minister said.
The state has experienced difficulty in maintaining law and order due to objectionable content being transmitted through social media. There is no mechanism to check it, he noted.
"It is necessary that Internet and mobile service providers have the capacity to restrict transmission of SMS, MMS and emails through these mediums," he said.
These companies should have a technology to trace origin of such objectionable contents. "If they do not have such capacity then they must develop them. I request government to take immediate step in this regard," Yadav said.
Image: Uttar Pradesh Chief Minister Akhilesh Yadav